Interviewed by:  Shoaib Durrazai
Qadeer Baloch, known as Mama Qadeer  is  Vice Chairman of Voice for Baloch Missing Person (VBMP), a non-governmental organization striving for the safe recovery of Baloch missing persons. Mama Qadeer recently launched an historic long march from Quetta to Karachi and marched some 750 kilometers with the family members of 20 missing persons.  The long march started on 27 October and reached its destination Karachi Press Club on November 22, 2013. The  Voice for Baloch Missing Persons(VBMP)  claims disappearance of some 18000 Baloch from different walks of life, and 1000 of them have  been "Killed and dumped."  Mama Qadeer's son Jalil Reiki, information secretary of Baloch Republican Party, was abducted on  February 14, 2009  in Quetta , allegedly by secret state agencies  and  his  bullet riddled body was  dumped in the Aap Sar area of Turbat on November 24, 2011.
Staff reporter of The Balochistan Point, exclusively interviewed Mama Qadeer Baloch regarding long march.
Balochistan Point: Why did your organization decide to launch a long march for Baloch missing person?
Qadeer Baloch : The government institutions and responsible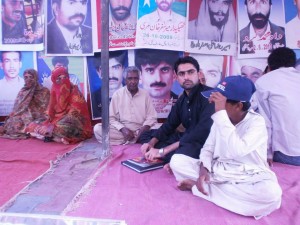 authorities have buried their heads in sand   about the  burning issue of Baloch missing persons, therefore, it was need of  the time to launch a long march  from Quetta to Karachi. As we have been protesting   through hunger strikes, processions and seminars in a democratic way. We recorded our protests in Islamabad, Karachi, and Quetta and in different cities of Balochistan. This time we prioritized long march to awaken the sleeping authorities and parliamentarians so that they play their role for the safe release of Baloch missing persons. 
Balochistan Point: According to Voice for Baloch Missing Persons, some 18000 Baloch are in the custody of intelligence agencies but why only 20 to 30 families participated in the protest?
Qadeer Baloch: A large number of people were ready to participate in the long march but we stopped them because there was no security assurance and we were already threatened, thus, we decided to have participants from only 20-30 families.
Balochistan Point: What positive outcomes has this long march accomplished?
Qadeer Baloch. Though, we did not gain any attention from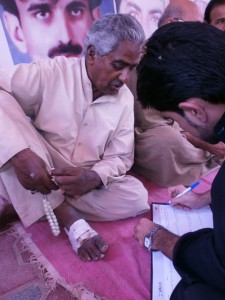 the state, in a broad way it achieved enough. The main purpose was to make aware the Baloch nation of this burning issue. While marching towards Karachi we came through   several villages and mountainous areas where people do not have sources of communication or media    to know the ongoing situations, however, after meeting us they became aware of matter. We received warm welcomes from Baloch people in cities and villages and they walked with us from one village to another, which is a positive singe of change. 
This long march also highlighted human rights abuse in Balochistan and bloody scenario on international level. We succeed to convey the message that Baloch people have their own language, history and geography   and struggling for ownership of their land and rights.
Balochistan Point: The mainstream media in Pakistan  did not cover this historic long march,  what could be the factors behind this?
Qadeer Baloch: Yes, since the very beginning media did not cover this long march, in Hub we were informed that journalists were   threatened and stopped from covering the protest, as a result, they did not come Hub city to cover the joining of hundreds of people. As you know, Balochistan has been declared a  no go area for journalists and reporters from many cities of  Balochistan have been  target killed  but   we are grateful to BBC and Vash news,( a Baloch news channel) for covering our protest.
Balochistan Point: What has been the support and role of international human rights organizations regarding Baloch missing persons?
Qadeer Baloch: Human Rights Watch, Asian Human Rights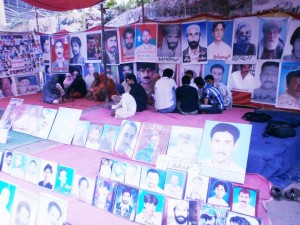 Commission, Amnesty International and other human rights organizations support us   and time and again they have been mentioning human rights abuse in Balochistan in their reports and have asked state authorities to probe into the cases against state agencies. But Pakistan does not pay any attention to these reports.


Balochistan Point: Which Baloch nationalists supported your long march?
Qadeer Baloch: From the beginning of March we had been receiving threats, Khuzdar Deputy Commissioner Ayaz Mandokel created number of troubles for us but when   Sardar Akhtar Medngal knew  about the fact,  he himself came  with his  hundreds of people to welcome us.  He took us to his home and served us. The next day he marched with us for six Kilometers and provided us guards up to Hub city.
Balochistan Point: What expectation do you have from provincial and federal government?
QB: We do not have any expectations from these governments because they themselves have been involved in these acts against which we protest.
Balochistan Point: What will be your next strategy after this long march?
Qadeer Baloch:  Our next step will be even tougher, we are developing our new strategy and it will be announced very soon.
Balochistan Point: How long will the struggle of VBMP last?
Qadeer Baloch:  We will continue our struggle until "Abduct, kill and dump" of youth and political activists continues. Our struggle will go on until the safe release of last abducted Baloch in any torture celland end of military operation in Balochistan.
Balochistan Point: Will the movement of VBMP be limited to apply hunger strikes, rallies and protest only?
Qadeer Baloch: No, according to the demand of the time out strategy will change and in the coming days the world will witness our another tough protest. On 10th December we are going to conduct a seminar at Karachi Press Club in which we will announce our future strategy.
Balochistan Point: Which political parties of Pakistan have expressed solidarity with you and have they assured any support for the release of Baloch missing persons?
Qadeer Baloch: Yet, no one has assured to get released any missing person but some political   leader such as    Syed Munawar Hassan of Jamaat-e-Islami, Ghinwa Bhutto Chairpersons of   People's Party Shaheed Bhutto, delegations of Sindh Nationalists parties and Amna Masood Janjua, Chairperson Defense of Human Rights visited our camp and expressed their solidarity.
Balochistan Point: The Supreme Court of Pakistan has also raised the issue of missing persons and still the cases are in pending. Do you think the Supreme Court will be successful regarding this burning issue?
Qadeer Baloch: Supreme Court has been completely   unsuccessful in the recovery of missing persons.  Supreme Court of Pakistan held nearly 92 hearings on cases of enforced-disappearances and the apex court also gave orders which clearly stated that secret state agencies abducted the people. Chief Justice many times ordered to present Zakir Majeed, Dr Deem Muhammad, Sami Mengal, Munir Marri,  Abdul Malik Baloch  and other missing persons but till the day  no Baloch missing person has been brought in court. Despite the Supreme Court's orders agencies did not heed. We understand that if the issue of Baloch Missing persons is raised   in the International Court of Justice or in Untitled Nations so such remarks of Supreme Court will be a great support to us.
Balochistan Point: Any message through our news organization to the people of Balochistan?
Qadeer Baloch: Yes, I would like to say that Baloch youths should be mature and conscious politically and socially, they have to participate practically in the Baloch movement since Balochistan is their motherland and they should play their role for her honor and sanctity. Baloch leadership must honor the blood of martyrs. The leadership should feel the anguish and ruthless torture being confronted by thousands of Baloch in torture cells. Baloch leadership needs to be united on one platform and forget their minor differences for the sake of missing persons who are being tortured and killed.
Published in the Balochistan Point on November 30, 2013