Quetta: Government can insure offices and machinery for its security but takes no step for those who work by sitting on explosives for the owners. We would take decision to hold protest demonstration in front of Parliament on August 27 and 28 against this attitude.
This was stated by former President Pakistan Federal Union of Journalists (PFUJ) Afzal Butt while addressing participants of the seminar on Martyrs of Journalism Day at Quetta Press Club here Sunday.
President BUJ Hamadullah, President Quetta Press Club Shahzada Zulfiqar, President Balochistan Editors Council Anwar Sajidi, Coordinator ROZON Syed Ali and others also spoke to the participants.
Afzal Butt said, "Media Houses owners who have got their offices and camera insured but do nothing for those doing reporting by sitting on explosive."
He said that PFUJ meeting has been convened on August 27 and 28. It would organize protest demonstration for the security and payment of compensation of journalists form B Balochistan and would register a case against owners if any journalist was martyred.
BUJ President Hamadullah said, "We have to adopt measures to ensure our security at our own."
"After every incident we demand of the government for security and compensation. We have handed over list of 27 martyred journalists to the government but Government accepted only 13 applications and of these seven have been paid compensation. We demand government for our rights but will not accept compensation like beggars." Hamadullah add.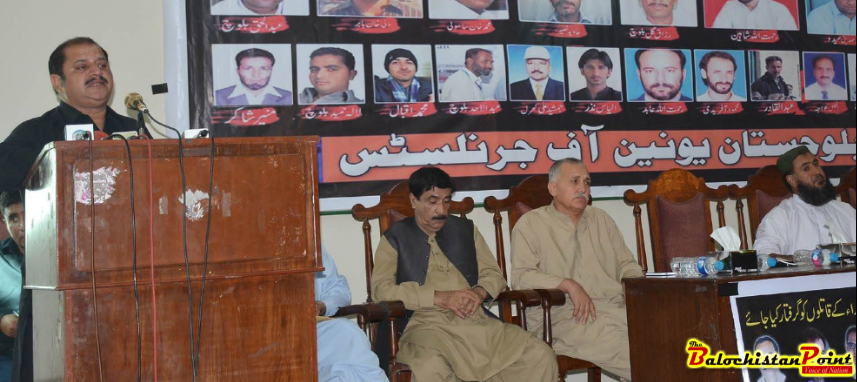 President Quetta Press Club Shahzada Zulfiqar said that five incidents had taken place with us but policy we made for our security was not implemented.
Shahzada Zulfiqar said that we had decided to gather all the DSNGs at Press Cub which would then go for coverage jointly but it could not be done and therefore August 8 incident took place. We condemn this and pay tributes or martyrs.
Staff Reporter
Published in The Balochistan Point on August 21, 2016