By: Mariyam Suleman
Gwadar: The Pakistan US Alumni Network Chapter Gwadar (PUAN-Gwadar) conducted a youth tech camp in the newly formed Government Girls Degree College Gwadar to Empower Girls through Technology this Wednesday.
The main idea behind the day-long extensive workshop was not only to introduce the positive use of technology but to provide an opportunity for the girls to interact and discuss social issues around them and brainstorm innovative solutions with the use of technology.
"We are not often denied access to maintain a virtual presence because of the social restrictions hence we are neither taught nor are we aware of global issues the way our brothers are," said a student during the tech-camp. Another student answered, "In contrast we are more aware of social issues though because we are the ones to face them more than our brothers do."
In the first session, students were introduced to various social media forums, blogosphere, blogger, photo journalism and citizen journalism. Since blogger does not support Balochi script properly, students raised the question how they could post blogs in Balochi if they would want to. To answer this question, girls were taught about "Unicode Converter" which can easily solve the problem.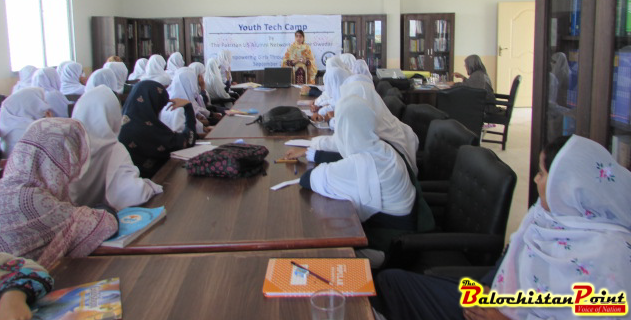 The second session was based on the social issues faced by the masses and their solutions not by the government but by the citizens. Students discussed civil responsibilities, civil rights, lack of economic means, entrepreneurial ideas with the use of technology, lack of educational opportunities, innovative learning through technology and raised issues like gender discrimination.
During the last session, students presented presentations with different themes for instance; promoting gender equality with the use of technology, technology for social awareness, global issues around the world and technology as a voice for the masses.
Through out the workshop girls were encouraged to use technology for educational purposes, awareness, empowerment and to compete with the world around them. Because of the activity based interactive sessions Tech-Camp was enjoyed by the participants. They did not only consider the tech-experience as valuable learning but also seemed excited to apply their learning in practice to challenge the social odds.
Published in the Balochistan Point on September 22, 2016