ISLAMABAD: The Pakistan State of the Future Index (PK-SOFI), inaugural study was launched by the Foresight Lab, a facilitative platform for communities of interest.Pakistan State of Future Index is a 10-year future index composed of 30 variables that indicate if the future is getting better or worse, it shows 30-year trends of improvement and decline, each variable is forecasted based on 20 years of past data which are then further assessed for the best possible and worst possible values in 10 years. Puruesh Chaudhary,Founder Foresight Lab and Founding President AGAHIsaid,"With this national study, Pakistan leads the region in futures research in public space, this is where this nation is winning; the dominating trend in the inaugural report indicates that the growth potential of theinternet is significant; this Index gradually builds confidence, which can help the decision-makers draft policy frameworks where technology could become the core element in ensuring the well-being of the people.
The National State of Future Index is built using different country-specific elements, which affords a country the means of tracking its performance over time. 
The State of Future Index was developed by the Millennium Project as an effort to measure the changing state of the future; this index shows whether the conditions, globally and nationally, promise to get better or worse. In 2000, 15 global challenges identified were incorporated for the study to form the statistical foundation. China, South Korea, South Africa, Kuwait, Azerbaijan and Turkey are among the countries with national SOFIs along with some in Latin America, Central Europe and North America.Dr. ShahidMahmud co-Founder Foresight Lab – CEO and Chairman Interactive Group of Companies highlighted that, PK-SOFI has the potential of becoming a very useful tool for objectively evaluating the direction Pakistan is heading. This tool intelligently supports the decision-making process of key stakeholders, in order to make informed decisions and achieve optimal results. Further adding that, a Government with a detailed insight concerning what is happening and what is going to happen in their country,and if trends continue it is able to make effective plans and deploy solutions to improve the quality of life of the population, and therefore can objectively assess the impact of these solutions. This also opens tremendous investment opportunities.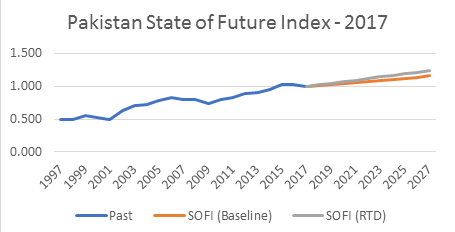 Foresight Lab in collaboration with its partnering organizations and individuals came together for the compilation of the 2017 inaugural report. More than a hundred Pakistanis participated in the Realtime Delphi Study; and over 20 academics provided their expert judgment on the variables selected. The study has been scaled between sentiment and sensitivity benchmarks. The variables included in the study; these variables were further classified using the STEEP technique which covered the Social, Technological, Economic, Environmental and Political spheres:
Social
Food availability (Kcalories/cap/day)
Homicides, intentional (per 100,000 population)
Infant mortality (deaths per 1,000 live births)
Malaria – Confirmed with Microscopy
Technological
Internet Users (per 1,000 populations)
Economic
GDP per capita (constant 2000 US$)
GDP per unit of energy use (constant 2000 PPP $ per kg of oil equivalent)
Literacy rate, adult total (percent of people aged 15 and above)
Population growth (annual %)
Poverty headcount ratio at $1 a day (PPP) (percent of national population)
Tertiary Education (Universities)
R&D Expenditures (percent of national budget)
Imports (Millions US $)
Exports (Millions US $)
Federal Taxes (Total) (Millions)
Inflation, consumer prices (annual %)
Environmental
CO2 emissions (percent of global emissions)
Energy produced from non-fission, non-fossil sources (percent of total primary national energy supply)
Forest Lands (percent of national land area)
Politics
Freedom Level (0-100)
Levels of Corruption in Public institutions (as measured by Transparency International surveys)
Life expectancy at birth (years)
Number of refugees displaced from the country (percent of national population)
People killed or injured in terrorist attacks (percent of national population)
Physicians (per 10,000 people)
Population lacking access to improved water sources (percent of national population)
Seats held by women in national parliament (percent of all national members)
Total Debt Service (percent of GNI)
Unemployment, total (percent of national labor force)
PK-SOFI indicates some improvement of future for the people of Pakistan. This Index was computed in consultation with global futures professionals from the Millennium Project and in coordination with local experts from the Academic community in which included more than 18 universities nationwide. As a result of this development, Jerome C. Glenn CEO and Co-Founder The Millennium Project said; PK-SOFI is nowincorporatedin toChapter 2 of the Millennium Project'smajor publicationState of Future 19.0; which brings together an extraordinary set of data, information, intelligence and collective wisdom to the decision-makers, opinion leaders, researchers, and analysts. TheState of the Future improves readers' global foresight.More than 60 Millennium Project Nodes participate in improving collective intelligence system on the future of the world.
UNESCO Futures Chair Sohail Inayatullah stresses how; Politics in Pakistan has remained past – based, focused on the pendulum between rule of the military and rule of the landlords. The state of the future index asks a different question. Can Pakistan become futures focused. This means: one, can a collective purposeful based vision be created; two, can politics be based on where the country wishes to be in 2048 not where it was in 1948; three can today's decision be based on where we wish to go, futures we wish to avoid, and the first and second order unintended consequences of these actions. In a nutshell – can Pakistan create tomorrow today?
The ecosystem of the new connected world does not have a separate space for nonprofit or public platforms, fenced off from commercial space. Today, the Government, Private Sector, Academia, Media and the Civil Society are required to be not only strategic but also human-centric, well-coordinated and prompt in service delivery.The Objectiveof the Lab is to create and foster an ecology of Foresight perspectives in Pakistan and enable decision-makers to opt for appropriate policy choices and establish strategic narrative in support. The Purpose of the Lab is to apply data-driven foresight research methods and techniques that pivots on improving the well-being of the people of Pakistan.AGAHI in collaboration with its local partner Interactive E-Solutions is devising a customized model for computing Pakistan's futures discourse which will have the ability to track the expected state of the future over time at National, Provincial and District levels. Eikon7, AGAHI's design partner is developing the interface for the end-user.
Partnering Organizations
Islamabad
National University of Modern Languages (NUML)
COMSATS Institute of Technology
Quaid-i-Azam University (QAU)
AllamaIqbal Open University (AIOU)
International Islamic University Islamabad (IIUI)
Institute of Space Technology
Institute of Policy Studies (IPS)
Strategic Visions Institute (SVI)
Pakistan Institute for Conflict and Security Studies (PICSS)
China Study Center
Center for Global and Strategic Studies (CGSS)
IGNITE, National Technology Fund
Bagh
Women University of Azad Jammu & Kashmir
Lahore
Beaconhouse National University (BNU)
Sanjan Nagar Institute of Philosophy and Arts
RahimYar Khan
KhwajaFareed University of Engineering & Information Technology
Karachi
Institute of Business Administration (IBA)
Dadabhoy Institute of Higher Education (DIHE)
Karachi University
Peshawar
Institute of Management Sciences (IMS)
Gilgit
Karakoram International University
Quetta
Balochistan University of Information Technology, Engineering and Management Sciences (BUITEMS)
University of Balochistan (UoB)
Futures Council
Prof.Dr. Atta Ur Rehman
Prof. Dr.SohailInayatullah
Prof. Saleem H. Ali
Dr. IlhanNiaz
AsifIftikhar
Policy Network
Senator MohsinLeghari
Dr. Musadik Malik
Dr. SamiaRaheelQazi
Advocate JamilaJahanoorAslam
Amir Jahangir
Syed Ali RazaAbidi
Farzana Yaqoob
Lt Gen (Retd.) Naeem Khalid Lodhi
Barrister Senator Nawabzada Senator SaifullahMagsi
Fawad Chaudhry
SardarVickasHasanMokal
IrumAzeemFarooque
Buzair Marri
Shazia Ismat Zaidi
Shahzad Nawaz
Lt Gen (Retd.)Agha Farooq
Web Desk 
Published in The Balochistan Point on October 21, 2017