By Hasrat Iqbal.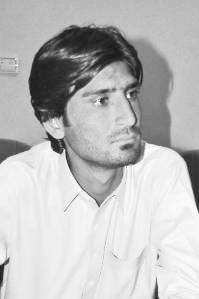 It was the very first day of the January 2014 when the entire world was busy in celebrating the eve of New Year, wishing happy New Year to each other, hoping peace, harmony, joy and happiness. Prognosticating of no violation of universal rights. Expecting zero marginalization; persecution and Eager to see better opportunities for the oppressed nations on the planet.
Similarly, people of Baluchistan anticipated peace and tranquility. On contrary, 2014 started with bomb blasts and firings in Balochistan. On January 1st a suicide bomber rushed a car to a bus of Shia pilgrims returning from Iran in which 3 people were killed and 17 were seriously left injured near Ahkter Abad Quetta. The attack was claimed by banned religious militant organization " Jaish-ul-islam".   
Unfortunately in Balochistan from the last decade sectarian attacks are directed against the minority hazara community, whose members are Shia. In the resent years there has been a dramatic increase in the targeting of Hazaras, started with the killing of the chairman of Hazara Democratic Party in January 2009. In 2013 more than 357 people including women and children were killed and more than 1000 injured which were claimed by Lashar-e-Jangvi(LeJ), banned extremist Sunni( Deobandi) militant organization, and its offshoots named Jaish-ul- Islam and Jaish-e-Muhammad.
Later the killings were justified legal by Ahle Sunnat Wal Jamaat(ASWJ)(the new name for the banned sectarian group Sipah-e-Sahba Pakistan SSP) and was politicized by many other religious parties for number making. However the Hazara Democratic Party (HDP) and Hazara Students Federation (HSF) openly professed that government and establishment are hereticaly involved in the genocide of Hazaras. Since they argue to bring the stark involved extremist groups like ASWJ( farmer SSP) and its offshoot Lej to soothe the wounds of Hazara community.
On the other hand, soon after the incident a special delegation of ASWJ, headed by Molana Ramzan Mengal, called on Dr. Malik showing their innocence, providing guideline for peace  and warning Dr to impose their brand of religion-political ideology to bring peace and harmony in province. They are of the view that peace can only be brought by their proposal and guideline. Dr. Malik seems apologetic and helpless before the demands of Ramzan Mengal. Dr. is well aware of the fact that who is involved in the killing of Shias and pragmatically he also knows that how much power he possesses regarding all these.
What ever the ramifications of these killings may be but it seems as if it was the trailer of 2014 and a massage to Dr. Malik to be in the prescribed limited and not to have tussle but act accordingly with the guideline of Ramazan Mengal. In other words this all is an open warning to poor Dr. Malik and a possible clue as through beck of the all happenings which happened to his past counterpart Nawab Aslam Raisani. After all, learning a lesson from history Molana Ramzan and Mollla Shafique may be dearer to  than Mulla Qadir of Bangladesh. Honestly speaking I am worried of Dr. Malik's future……
Published in The Balochistan Point on January 25, 2014