Behram Baloch
Islamabad – AGAHI Awards have opened submissions for journalists across the country. Journalists can submit their best work in print, television, radio and blogs through the Agahi Awards' website, www.agahiawards.com. Awards will be announced on 15th April 2015, the deadline for submission of articles, news reports is 22nd March 2015.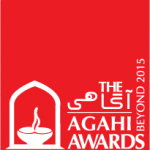 The Agahi Awards, launched in 2012, has received an overwhelming response by the journalist community, development organizations and support from international media development and representative organizations. The platform for appreciating quality journalism was created by Mishal Pakistan and AGAHI represented by Amir Jahangir, Young Global Leader (YGL) and Puruesh Chaudhry, Global Shaper of the World Economic Forum.
This year the AGAHI Awards – Beyond 2015 will be creating appreciation for journalists reporting on Pakistan's development challenges, especially in the context of the Global Beyond 2015 initiatives for socio-economic empowerment for improving the human conditions, said Puruesh Chaudhry, President AGAHI and Co-Founder AGAHI Awards.
"The awards are a way of recognizing journalists for their efforts and contributions towards Pakistan's young media industry", said Amir Jahangir, CEO Mishal Pakistan and Co-Founder of Agahi Awards. Furthermore he said, "the Pakistani media industry in its short duration has played an important role in developing public and stakeholder opinion". "Through a transparent judging system awards create a space for qualitative and ethical journalism to be acknowledged in Pakistan", said Jahangir.
More than 1500 journalists submitted their work in the AGAHI Awards 2013, which were almost 100 more than the awards debut in 2012. This year with more than 30 categories, the Awards aim to create content diversity in media by introducing diverse journalistic genres, which impacts the society at large.
The Agahi Awards are the most sought after journalism awards in Pakistan, which are held in collaboration with leading press clubs, local, and international media development institutions, regulatory authorities, civil society organizations, private sector and other stakeholders. The awards have identified some of the most brilliant and professional journalists in the industry. The Agahi Awards winners have gradually progressed in their profession; where some have either reached a decision-making or leadership position in the industry or have received academic and scholarly excellence for "Shaping the Future of Journalism".
Published in The Balochistan Point on March 7, 2015