QUETTA: Balochistan Chief Minister Abdul Malik Baloch has vowed to fight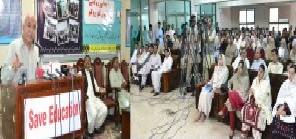 the extremists and terrorists forcibly closing educational institutions in Panjgur district of the troubled province.
At a seminar held in Quetta on Saturday, politicians, educators and members of civil society urged law enforcement to protect teachers and education institutions in Panjgur, one of the most backward districts in Balochistan.
"No one will be allowed to forcibly shut down our schools," the chief minister told the seminar, which thoroughly discussed all ways and means to ensure provision of education to the students in the province.
Educational institutions in Panjgur remained closed for the last two months in the aftermath of threats by a fundamentalist organization.
Abdul Malik Baloch recalled that the menace of terrorism and extremism dates back to the Soviet invasion of Afghanistan.
"Promoting extremism in the region was internationally sponsored," he added, saying that anti-Soviet countries supported Islamic fundamentalists to counter the USSR.
The chief minister urged the political forces, intellectuals and civil society to put their heads together to curb the menace of terrorism. He stated that different elements with various names were bent upon closing educational institutions in Balochistan.
"We will not tolerate any intervention in our educational institutions," he said.
Abdul Malik Baloch categorically stated that whether he remains in power or not, his party will not make any compromise on the future of the young generation in Balochistan.
Regarding the plight of educational institutions in the province, the chief minister revealed that 8,000 employees including teachers were recruited on fake degrees in the department.
"What can we do against those who recruited the fake teachers," he showed helplessness while revealing the ghost teachers.
Rashid Nasar of Awami National Party (ANP), Agha Hassan Baloch of Balochistan National Party (BNP) and others spoke at length about the closure of educational institutions in Panjgur and urged the government to take practical steps for the protection of teachers and educational institutions. (Courtesy: http://www.sharnoffsglobalviews.com )
Republished in The Balochistan Point on June 30, 2014