QUETTA: Balochistan Chief Minister Sanaullah Zehri resigned prior to a no-confidence motion being taken up against him in the provincial assembly. Governor Mohammad Khan Achakzai accepted the resignation on Tuesday.
Sanaullah Zehri's decision came after he was advised by Prime Minister Shahid Khaqan Abbasi to resign in light of the no-confidence motion.Following his visit to Quetta Prime Minister Shahid Khaqan Abbasi advised the chief minister to resign to control the political situation in the province.       
In a statement following his resignation, Zehri said that he did not wish to cause problems in the political setup of Balochistan.  
The prime minister had travelled to Quetta on Monday as a no-confidence motion against Zehri gained momentum and was said to have the support of majority lawmakers of the assembly, leading to fears of the chief minister's removal from office.
A no-confidence motion was submitted against Zehri on January 2 by MPAs Mir Abdul Quddus Bizenjo and Syed Agha Raza which had the signatures of 14 lawmakers. In order to retain his position as chief minister, Zehri required the support of 33 members from a house of 65.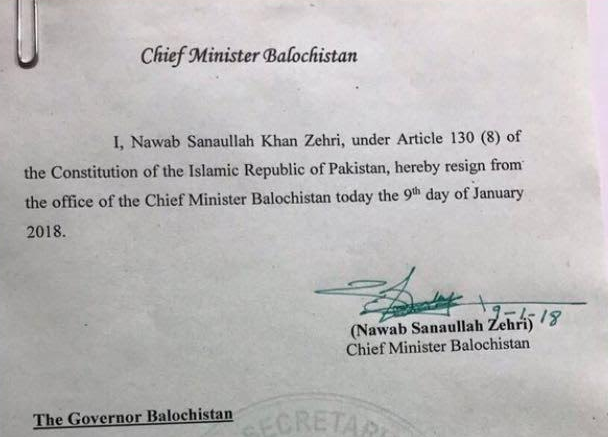 No-confidence motion developed a political crisis stepped up by the PML-N. PML-N has a government both in the center and province.  
Opposition leader in Balochistan assembly  Maulana Abdul  Wasay, speaking to the media on Tuesday afternoon,  said they had the support of 41 provincial lawmakers. A day earlier. PML-Q lawmaker Abdul Quddus Bizenjo had also claimed of having the support of 40 legislators against Zehri. According to reports, ten disgruntled MPAs from the PML-N were also supposed to vote for the no-confidence motion.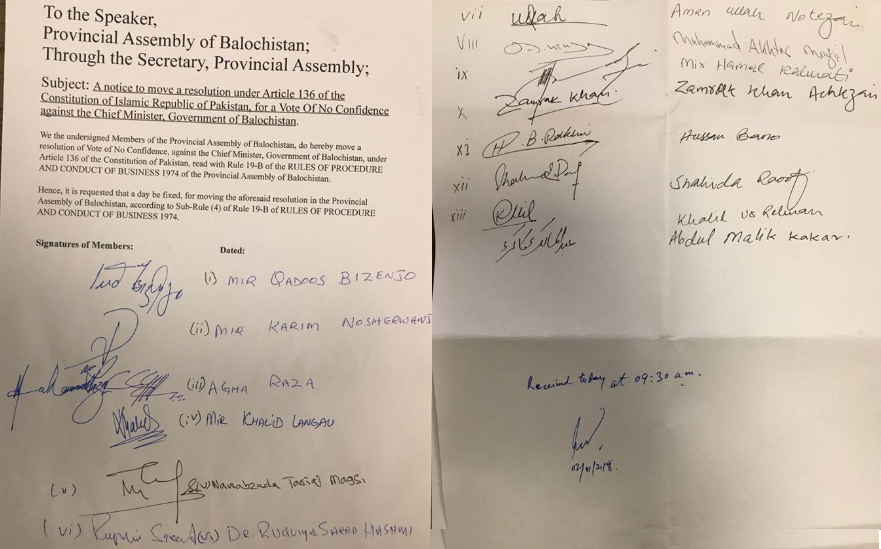 Web Desk
Published in The Balochistan Point on January 9, 2018