Quetta: Balochistan Dentists Federation (BDF) held a protest outside office of Medical Superintendent (MS) Sandeman provincial hospital Quetta against non-payment of stipend, on Tuesday.
House officers and Post graduate students of the dentistry have not been paid their stipends for last 6 months.
In order to demand the release of funds for the payment of their stipends, members of BDF held a protest.
"We demand that the administration of Sandeman provincial hospital and government of Balochistan change their attitude and pay the dentistry students their stipend on time," Ahsan Saleem, a member of BDF told The Balochistan Point. "If the attitude of government persists in the same way then we will intensify our protests," He further added.
After the protest, MS of Sandeman provincial hospital called the leaders of BDF for negotiations. MS assured the BDF that the problem of non-payment of stipends will be resolved soon. Upon his direction, a notification was issued which directed the concerned officials to release over Rs. 24 million for payment of stipends. The Balochistan Point has acquired a copy of the notification: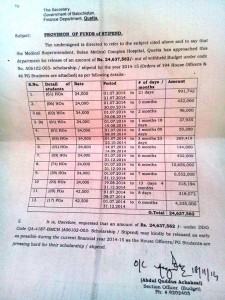 House Officers and Post graduate students of dentistry are still awaiting payment of their stipends.
Due to negligence and apathy of bureaucrats in government of Balochistan, protests for release of salary have become a common occurrence.
Exclusive Report
Published in The Balochistan Point on November 19, 2014