Abdul Baseer Khan
Balochistan comprising of almost 44 percent of Pakistan's total land, situated at the southwest, is least populated and least developed province. Geographically the province has strategic importance and shares its national borders with Punjab, Sindh and Khyber Pakhtunkhwa (KPK) while international borders with Iran and Afghanistan. Pakistan is gifted with 1050 Km of coastline and out of which Balochistan is honored to have 800 Km under its provincial domain.
Everyone knows that this province has geographic importance and same is the case with Drug smugglers. Drug smugglers know that this province has significance for them as well because Balochistan shares it border with Afghanistan; the hub of poppy cultivation.
According to the World Drug Report 2014, "The opium production in Afghanistan accounts for 80 percent of the global opium production". "Most illicit opium poppy cultivation occurs in the south of Afghanistan in the provinces bordering Pakistan, mainly in Helmand and Kandahar", states the report, Drug use in Pakistan 2013, published by UNODC.
Out of 9 drug trafficking routes, crossing into Pakistan through Afghanistan, 6 routes pass through Balochistan
The Global Afghan Opium Trade, 2011, indicates that out of 9 Drug trafficking routes, crossing into Pakistan through Afghanistan, 6 routes pass through Balochistan from where it goes to Iran in the west and coastline in the south, thus making its destination to Europe, Asia, and to a lesser extent, Africa and North America.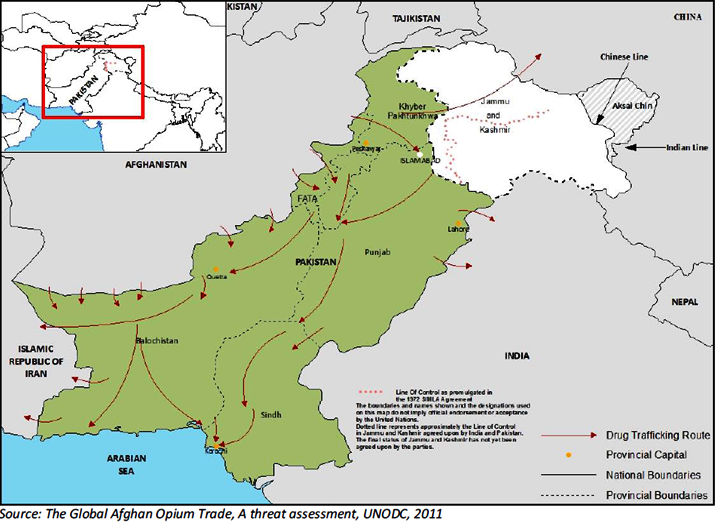 Balochistan is, no doubt, the most vulnerable province to illicit drug trafficking and it can be confirmed through the seizure data of Anti-Narcotics Force (ANF). According to ANF, during the second quarter of 2015 almost 16765.8 Kgs Opium, 2,752 Kgs Heroin, 24605.1 Kgs Hashish and 515 Kgs Morphine was seized in Balochistan only.
This menace is not only routed through Balochistan but the point of worry is that, in this province, it is also consumed in a great quantity. According to the UNODC Report, Drug use in Pakistan, 2013, "the highest prevalence of opiate users was found in Balochistan, where 1.6 percent of the population uses either heroin, opium, or both". The report further states that, "0.2 percent or around 13,000 people took methamphetamine in Balochistan in the last year, representing 70 per cent of national use although they make up only 5 per cent of the country's population".  The situation is even more alarming when the technical report of UNODC states that, "Although drug use estimates for Balochistan are conservative due to lack of data collected beyond the provincial capital of Quetta, this prevalence rate is sizeable regardless".
According to the UNODC Report, Drug use in Pakistan, 2013, "highest prevalence of opiate users was found in Balochistan.
The provincial government, in the past and the present, seems to be less bothered about the illicit drug trafficking occurring through Balochistan, same is the attitude of federal government. There is no sign of any development project, such as "Drug free city Lahore", initiated by the federal or provincial governments. Recently, Federal Government in cooperation with Sindh Government initiated "Drug prevention campaign" in different cities of Sindh whereas ignoring Balochistan once again.
The destitute people of Balochistan once again have to look for the help of Pakistan Army in this matter as well because the elected representatives have failed to facilitate them. Under National Action Plan, it was committed that, "All funding sources of terrorists and terrorist outfits will be frozen". No doubt the money generated from drug trafficking has been used to finance terrorism in the country. Balochistan, in recent years has gone through worst ever terrorism attacks and sectarian violence. It may be possibility that the terrorism and sectarian violence in the province is financed by the drug traffickers in order to assist them in smooth running of their operations in the uninhabited areas of Balochistan.
During August 3, 2015 visit of General Raheel Sharif, Chief of Army Staff to Anti- Narcotics Force Headquarters and his statement that, "We will break the nexus between drug dealers, financiers and perpetrators of terrorism" and "We will not allow these drug barons to negatively influence and spoil our future generations" may also be seen as a hope by the people of Balochistan.
Published in The Balochistan Point on August 28, 2015
Disclaimer: Views expressed in this article are those of the author and Balochistan Point not necessarily agrees with them.