By Baloch Khan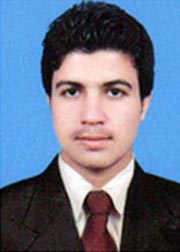 "A Battle Field for Balochistan" is newly published book of Yousaf Ajab Baloch, a young journalist and human rights activist. Yousaf is also editor of The Balochistan Point, an online English newspaper of in Pakistan and Sub-editor at Monthly Bolan Voice, a wildly circulated English magazine in Balochistan.   The book has been revealed after critical thinking and observation.
Contexts in book are based on contemporary issues, the geopolitical, geostrategic and geo-economics importance of Balochistan.  The writer has dedicated book to those journalists, intellectuals, teachers and human rights activists, who become victim of, kill and dump or target killed in Balochistan,   As Balochistan is not save place for journalists and human rights defenders where human rights violation is on its peak.
This is one of the courageous efforts in Balochistan, the author has done. The book is collection of his online published articles or the articles published in Daily Times, Bolan Vice and national and international papers.
The book discusses importance of Baloch resources. Writer highlights in Reko-Diq and Balochistan's fate, "The minerals at Reko Diq estimated at 5.9 billion tons. These minerals resources lie in the Chaghi area of Pakistan's southwest Balochistan .The export estimate that only a small part of the reko diq gold and copper mines (EL-5) have deposits worth of US 270 billion dollars.
I find this book projecting transparent pictures that how China is plundering resources in Balochistan. "The plunder of Saindak's copper and gold proved that federation is only interested to exploit Baloch resources with multinational companies like China Metallurgical Corporation (MCC). No doubt these resources could bring radical change in Balochistan socio-economic system, unfortunately they could not established a Primary school"
The author markets one of the most serious issue of target killing and enforced disappearance of journalists in Balochistan. In his book Yousaf terms Balochistan, 'A battle ground for journalists' and gives detail of more than 30 journalists who had been killed during performing their duties. "The murder of Baloch intellectuals, journalists and human rights activists is an inordinate loss for Balochistan which can never be compensated. It is hard for journalists and an activist of civil liberty to practices their responsibility in Balochistan without any fear." The writer fears
This book articulates real story of Baloch missing person, role of United Nations, judiciary and efforts of the relatives of Baloch missing persons. Only there are few Book in which Baloch missing persons issue and their information are mentioned like "The Redefined dimension of Baloch Nationalist Movement " Written by Malik Siraj Akbar Editor- in-Chief The Baloch Hal. "The Baloch Who Was not Missing" Witten by Muhammad Hanif. The book has revealed on burning issues of Balochistan Author of "A battle field for Balochistan" closely  observes freedom of expression in Balochistan, ban on Baloch newspapers, attack on media  offices, threats  to the Baloch journalists this book also discussed in the book role of Pakistan electronic media, and applied decimation  against Baloch and Balochistan.
The writer indicates role of media and United Nationals for Malala and those 15 innocence girls who were killed in June 16 2013 in Saedar Bahadur Khan University. Yousaf criticizes imbalanced role of main stream media and UN toward one Malala and 15 Malalas who were burnt.
"Blunders from Bengal to Balochistan" is important aspect of the book in which the author writes that partition of Bengladash rather than being a bitter experience and learning lesson for misruling and use of power to control people, it is even not quoted as a blunder and still India and Bengalies are blamed for the reason. The similar violence and genocide is taking place now in Baluchistan"
 "A Battle Field for Balochistan" discusses the current scenario of Baloch and Balochistan. I consider it a great effort of Yousaf Ajab Baloch for mirroring conundrum of Balochistan, when people even openly cannot speak about human rights violation in Balochistan.(Courtesy : Bolan Voice www.bolanvoice.wordpress.com )
The writer is Journalists based in Karachi.
Republished in The Balochistan Point on February 1, 2014