By: Aziz Ejaz
QUETTA: Baloch Students Action Committee has warned to expand the level of hunger strike if government continues to show negligence towards initiating classes in new medical colleges of the province. The students began the strike on 10th April and activists from social society, political parties, student organizations, doctor forums and students of various institutes visited the camp to express their solidarity and committed to assist BSAC till the notification of functionality of the new medical colleges in Balochistan.
BSAC previously released a statement regarding the issues of the new medical colleges but the concerned authority shown negligence to the voices of the students which compelled them to record their demonstration peacefully to sit in a hunger strike camp.
Baloch Doctors Forum unconditionally announced supporting the  hunger strike of the BSAC and said while expressing their harmony that it was apparently an injustice to the students for almost passing of four years without fulfilling the promises that had been  once pledged regarding the functionality of the medical colleges.  
A student who is a part of this hunger strike camp and an aspirant of the medical has miserably said that government during the tenure of Chief Minister Aslam Raisani approved the bill of opening the new medical colleges and the provincial assembly passed the bill when Dr. Malik Baloch was Chief Minister but unfortunately now the concerned authorities are showing negligence to hear the voices being raised for the functionality.
"They sometimes pretend to say there is lack of financing the colleges which is resultantly halting the process to proceed and every so often console the students with their disheartening helplessness which seems only a matter of mistrust." He added.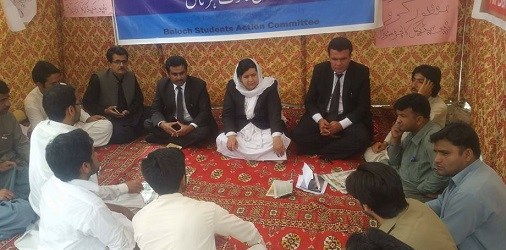 He further added: "Such extreme level of injustice and carelessness declares that the concerned government is not much interested in making the medical colleges functional and this is a sort of sarcasm for thousands of the students who only have to feast their eyes upon only Medical College of the province which surely doesn't allocate such an enormous number of candidates."
The Representative of the Baloch Student Action Committee said they had brought the issue into the notice via their statement and briefed the concerned authorities time and again."The initiative of the classes and admissions processes had been assured but lack of taking practical steps on this issue has compelled them to set up a hunger strike which will be expanded if the demands of the striking students were not fulfilled as accordance with hallow promises which were once guaranteed." He added.
The BASC representative said: "The Government officials and more specially the secretary health department Balochistan must bring such an alarming issue into the considerations of the health Mistier to take prompt action on it. Their tall claims and politically earning publicity should have to be kept away for the sake of this collective purpose in favor of the students of Balochistan."
He further said: "Our parliamentarian disappearance on the educational issues surely lead us to a darkness because when the decision makers of a nation avoid facing the daunting tasks to be sorted out the consequences will eternally wrapped them up into a fruitless product."
Published in The Balochistan Point on April 14, 2017