Quetta: Chief Minister Balochistan, Nawab Sanaullah Khan Zehri has said that the future of Pakistan and Balochistan is linked with China Pakistan Economic Corridor (CPEC) which would be a game changer in the region.
"Balochistan and Gwadar Port have got key positions in CPEC and following the implementation of this project and promotion of foreign investment the Pakistan would thrive and become prosperous," he added.
Nawab Sanaullah Khan Zehri was addressing to the "Pakistan Stability International Gujjar Convention" as chief guest in Jinnah Convention Center Islamabad on Saturday.
Member of National Assembly and Chairman Standing Committee for Kashmir and Gilgit Baltistan Affairs Malik Abrar, Senators, MNAs, politicians and people hailing from various segment of life attended the convention.
Chief Minister Balochistan said that long dictatorships and snubbing the supremacy of masses have inflicted irreparable damages to the country. "Incessant struggle of masses and democratic forces helped get rid of dictator ship," he said, adding that for obtaining provincial autonomy particularly people of Balochistan carried out a long struggle and following their great sacrifices a big breakthrough occurred towards provincial autonomy after 18thConstitutional Amendment.
He said that today all political and religious parties are active and united for the supremacy of parliament and democracy, adding that in current circumstances the country could not afford any political turmoil, thus we would have to find solution of problems adopting democratic approach.
Nawab Zehri said that today the country is confronted with terrorism that is a big challenge for us and we have accepted this challenge of enemy as we trust upon our capability and bravery. "Today there is a complete harmony between political and military leaderships. We through complete consensus and full-fledged cooperation of nation, frustrated the conspiracies of enemies," he added.
Chief Minister Balochistan said that it is a bitter truth that India through its RAW trying to destabilize Pakistan and through a neighbor country terrorist plots are being prepared to destabilize Balochistan. "Indian PM Modi on independence day spewed poison against Balochistan and revealed his nefarious designs which was a fail effort to conceal its failure in occupied Kashmir," he remarked, adding that comparing the situation of Balochistan with Kashmir is totally unjustified.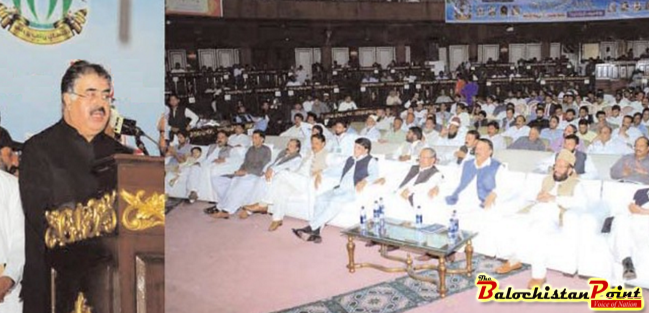 He said that in Kashmir people are struggling for their liberation against Indian occupation that is completely in accordance with the resolutions of United Nations.
Chief Minister Balochistan said that they had proofs that India is supporting chaos in Balochistan and people like Bramdagh Bugti is being funded by India. "100 percent Kashmiries support liberation from India while the case is completely opposite in Balochistan which was evident from the protests of people of Balochistan carried against Modi's seditious statement in every nook and corner of the province," he maintained.
Nawab Zehri said that Balochistan is an important part of Balochistan, Pakistani Army is our own Army and we could not tolerate Indian and any other country to interfere in our internal affairs.
He said that a peaceful, dignified and developed Pakistan is our dream, and to achieve this dream our great leader Muhammad Nawaz Sharif is striving hard day night, and the whole nation is united under his leadership. "Great nations believe in their own accountability and always endeavor to rectify their mistakes. However, if we have a little glimpse of our performance of 69 years we will see we are still backward and facing poverty," he said.
Chief Minister said that restoration of law and order and good governance is our topmost priority, adding that today's Balochistan is totally different from Balochistan of past regarding corruption.
We have pledged that we would not sit relax until and unless we remove the dots of corruption from Balochistan, he maintained.
He said that the typical geography of Balochistan, its coast, Gwadar Port and natural resources are the guarantee of economic stability of Balochistan as well as Pakistan, adding that Pakistan is our country we all should play our defining role in its construction and development.
Staff Reporter
Published in The Balochistan Point on August 27, 2016