Behram Baloch
Quetta – Baloch Students Organization (BSO) has condemned educational emergency campaign of Balochistan government as a publicity campaign.
BSO held a rally against deterioration of education in Balochistan, on Saturday. Participants of rally marched from Government College of technology on Sariab Road to Quetta Press club.
Outside Quetta Press club leaders of the rally spoke against the Balochistan government and lamented the educational emergency campaign.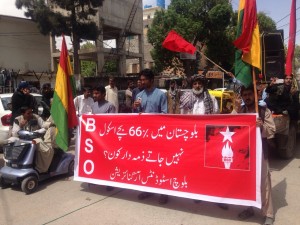 Speakers said that there is lack of basic amenities in schools such as class rooms, drinking water but government is spending huge sums of money on publicity campaign.
Participants of the rally were carrying placards which carried slogans against Government for its selfish approach to education.
"Incumbent government has canceled 674 vacancies of lectures, 250 technical education vacancies and not paid scholarship dues of 250 students of Chamalang program. What Kind of educational emergency is this?" said a participant of the rally.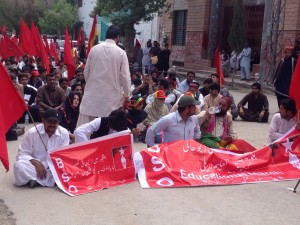 Those who spoke at rally were Akhtar Hussain Langove, President of Quetta chapter of Balochistan National Party (BNP), Jameel Baloch Chief Organizer of BSO and Jameela Baloch leader of women's wing of BNP.
Educational emergency campaign of Balochistan government has been criticized by analysts for its flawed approach.
Bureau report
Published in The Balochistan Point on April 12, 2015