By: Dur Bibi Baloch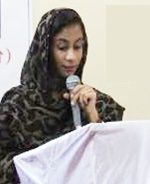 People generally appreciate youth as energetic Nucleus and in every society youth has been encouraged for doing the good things ( good things in societal perspectives ) but when the youth lacerate any worn norm then the so called society starts criticize. World has few regulations for criticism but in backward society (backward in sense of literature) criticism doesn't means disagreeing but clash.
 Balochistan is a war-torn area from decades and day by day the days are going worse but in critical time there is always an option to wrap up the circumstances. The option for Balochistan's people was to write and take the frustration out. In many areas of Balochistan there is no access to internet or even Network  but cities like Shaal, Turbat, Lasbela and many has this access and they always utilise this opportunity. As Balochistan is not a peaceful zone then how should we expect the Education system to be well that is why Majority of Baloch Youngsters do not know English well and try to write in Urdu as it is Pakistan's National Language and a medium of language which is easy to communicate.
Haalahwal.com is a site which has more than 19,000 (19K) Followers Nowadays, was established on 3 May 2016 by Baloch Writers and intellects. In only two years it took the leap toward success and became very popular among youngsters, especially.
Haalahwal was going all through the peak and celebrated its Second Birthday on 3 May 2018. But exact after 3days of Birthday Haalahwal Page was not in access in more than 3 Cities like Karachi, Shaal and Turbat. Everyone was contacting each other for Site access. The Site Management Team was also worried  about this sudden trouble  and then Everybody realised that the website had been banned by Pakistan Telecommunication Authority (PTA) in all over Pakistan. This was shocking.
According to the Haalahwal team they have contacted PTA about the issue but still there is no response from PTA.
We request PTA to remove the ban from Haal Hawal and make it accessible for everyone.
Published in The Balochistan Point on May 20, 2018