Quetta: Hundreds of people welcomed the Baloch marchers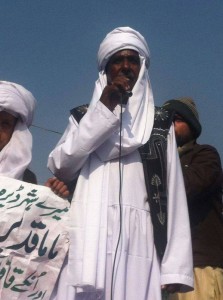 when they reached Dera  Ghazi Khan of Punjab province today.
According to the details the participants of long march for the safe release of Baloch missing persons reached Dera Ghazi Khan where hundreds  of Baloch  people welcomed marchers and joined  march.The leaders of the long march also delivered speeches to the people. 
The non-government organization Voice for Baloch missing Persons (VBMP) has been protesting  for the safe recovery of Baloch missing persons.  The relatives of missing persons launched their peaceful long march from Quetta and today it was the 72nd day of their historic long march. The  Voice for Baloch Missing Persons(VBMP)  claims disappearance of some 18000 Baloch from different walks of life, and 1000 of them have  been "Killed and dumped."
VBMP is the sister organization of International Voice for Baloch Missing Persons. Mama Qadeer Baloch and  Farzan Majeed are leading the march. Mama Qadeer Baloch is vice president of VBMP and Farzan Majeed is Secretary General of the same  organization.
Mama Qadeer's son Jalil Reiki, information secretary of Baloch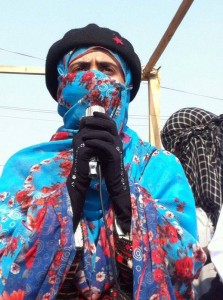 Republican Party, was abducted on  February 14, 2009  in Quetta, allegedly by secret state agencies  and  his  bullet riddled body was  dumped in the Aap Sar area of Turbat on November 24, 2011.
Farzana Maajeed is sister of  Zakir Majeed , A Baloch student leader. Zakir was  abudted at Pirangabad Mastung on  8 June 2009 and he is still missing.
The marchers also include relatives of missing person from different walks of life.
The participants, consisting of women and children, allege that they are being threatened and intimidated by the unknown persons through messages on their cell phones and face to face. They have been told that if they do not stop the Long March they would be kidnapped or killed.
Mama Qadir Baloch, accuses the security forces of kidnapping and dumping the bodies of Baloch political activists. He says that  thousands of Baloch political activists were whisked away by security agencies and had been missing for years.
By Staff  Reporter
Photos by IVBMP
Published in The Balochistan Point on January 26, 2014