Interviewed by Zareef Gul Baloch
With reference to the 'Hunger Strike Till Death' of Latif Johar, a BSO-A student, in front of the Karachi Press Club, who has been on hunger strike for the safe recovery of his leader for more than 27 days, has plaintively expressed his grievances with our correspondent over the enforced abduction of his Leader, Zahid Baloch, who is missing since the present day now. He says, "I cannot torture others but I have been taught lesson of loving of humanity, so I have the full authority to torture myself in order to gain the positive attention of the world and its civilized peace-promoting organizations". Moreover, with the each passing grueling minute of his life, he has to fight hard to survive as the doctors have said that "his constitution is getting deteriorated in terms of health and weight that might result in a fatal repercussion.
Below is the elaborated conversation with him.
Q: Why and how Zahid Baloch the chairman BSO-A disappeared? If you can vindicate causes behind the incident.
Lateef Johar: The vindication of causes is marked clear if you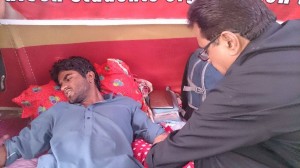 live in Balochistan or if you have had previous affiliation with the land of Balochistan! What I mean to say is that because of national struggle, sprawling awareness among his people and students, as thousands of Baloch scholars, students and writers who went missing and were abducted by the armed forces. My Leader Zahid Baloch, was abducted similarly because of being a nationalist who believed in love, peace and humanity. In addition to that, the i state cannot abide it and it atrociously kidnaps and kills, and then throws their mutilated dead bodies and the reasons are obviously the same that's why Zahid Baloch has been forcefully kidnapped.
Q:  You are observing Hunger Strike for 26 days, has anybody taken notice of this strike?
Lateef Johar: Well, to some extent the masses and the media like English newspapers and the writers who are overseas have come in order to interview me in the relevance of the reason of my hunger protest. Otherwise, Pakistan's mainstream media and TV channels are not showing their journalistic keen interest in this hunger strike which is their instinctually professional obligation as well as from the State's mainstream media nobody has taken notice of this strike, the way it actually has to. From the masses' side, the Baloch youth, Sindhi people, and people from other places have shown keen interest in observing my hunger strike and they have also participated in it. Plus, English writers, people from abroad and journalists working in electronic media out of Pakistan have also been showing a keen interest in the coverage of this strike.
Q:  The state authorities denied about owning Zahid Baloch, hence what mean remains of protest including your hunger strike?
Lateef Johar: It is very weird to know the State authorities are saying that my leader, Zahid Baloch, is not in their custody. So, who are those in armored paramilitary vehicles who picked up him? If they say that they are not the forces of State, so I believe there is no State if it doesn't know who they are in their military dresses and trucks. Similarly, hundreds of thousands of Baloch have gone missing but their mutilated and tortured bodies are being thrown! Where do they come from? Some people who get freed, what are their sayings and what do they say? Everybody is well aware of such atrocities and certainly the world understands that who is doing this. The missing persons are in the State custody and here our hunger strike's main goal is beyond thoughts!
Q:  The VBMP is protesting for long time but failed to get released Baloch Missing Persons, in such circumstances will BSO-A camp get succeeded in its intentions?
Lateef Johar: Well, it is actually an illusion to think that the VBMP long time protest failed, no not at all. If anyone says that Mama Qadeer's long march campaign got failed, so I believe that they are only lying to themselves, actually. Mama Qadeer's campaign is eternally alive and it made alive more the struggle movement and certainly, this State is an enemy, a wolf in sheep's clothing. The State fears lot from the Baloch sons, daughters and women and Mama Qadeer made alive the question that "why and where the sons, daughters and women are? And where have the paramilitary forces taken them to? And for what reason did they disappear them? In true sense, Mama Qadeer's long march campaign has actually more injected energy into the Baloch struggle. And his campaign didn't at all fail as well as it raised awareness in international countries and organizations about the State's atrocities in Balochistan. Obviously, Mama Qadeer's campaign is still alive and so far the BSO-A camp is concerned, so our camp's main mission is the same and it will not get failed. As you can see that today's 27th day of our hunger strike and this news is sprawling like a fire in social media and other related social networks, international organizations and among the other nations of the world. 
Q:  How is media covering your hunger strike camp, and how do you measure international level achievements through it?
Lateef Johar: Yes, but the Pakistani electronic media is not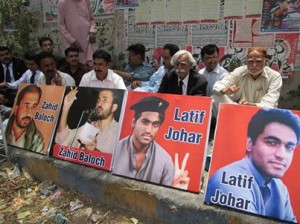 giving coverage of the agonizing problems overall of Baloch people and they are not covering or broadcasting our problems, either. Owning to the media and social networks our plaintive voice has been given an attentive ear internationally and amazing is the fact that before our voice reaching and coming out from Balochistan; they, including the international communities and human rights defenders, they say that they know "why and who" made us feel so enslaved a nation and they say that they well know who is responsible? Meaning of the saying is that our hunger strike is part of the peaceful struggle and it is bearing fruits and it is not as if that the world is unwise to the problems of Baloch nation. In fact, personally the international NGOs, writers, scholars and human rights defenders and all who have an alive sense of humanitarian conscience and a true sense of humanity, are enthusiastically showing a keen interest in our campaigns.
Q:  The rifts among pro-independent organizations uncovered and with each passing day these are getting intense, on this juncture of conflictions BSO-A how will deal the complication?
Lateef Johar: If anyone tries to pass on their personal viewpoint about such a juncture of mentioned conditions and problems related to the Baloch Nation, so they are not new ones, in fact from the day of the subjugation of Balochistan till the uprising of the Baloch freedom movement they have been the same. The disturbed or peaceful conditions of Sindh, Punjab, Kyber Paktunkwa or the Islamabad have nothing to do with the geography of Balochistan. In Balochistan, there is freedom struggle going on, so during this extremism from the outrage of State and the Baloch separatists gets an evolving point of emergence. Given the fact that as the insurgency gets on its rise the more the State starts killing and dumping the people. As a student organization, there are such many other complications that BSO-A deals with.
Q:  Does BSO-A have any program to defend organization and its workers while its chairman couldn't be protected from alleged state forces?
Lateef Johar: Well, it is a student organization and it doesn't have such active power to protect its members or to stop the paramilitary forces from kidnapping or killing the workers of BSO-A and here the biggest mission of BSO-A is to raise awareness by going to schools, colleges, universities and such other related educational institutions as well as our workers are not bureaucrats that they would be accompanied by ten or twenty security or bodyguards. No, we are students and our weapons are our pens and books and certainly they can't protect us physically against any odds. And it is high time that the world, the UNO and other human rights watch organizations rose voice in order to keep thousands of lives of the insecure BSO-A students and leaders secured.
Q:  What message do you want to deliver to the Balochs and Human Rights Organizations?
Lateef Johar: We strongly appeal to the world that ours is a peaceful struggle and ours is a peaceful student's organization and they must know deeply with the regards to the problems of Baloch nation. Any problem related to Baloch nation should be figured out and then resolved whether it comes to the Baloch geography or their educational or social and national problems.(Courtesy : Bolan Voice )

Published in the Balochistan Point on May 19, 2014