Kalat: The Government Girls Middle Schools Iskalkoo, one of the oldest schools in Tehsil Kalat is deprived of all basic facilities and its own infrastructure.
The Government Girls Middle Schools in Union Council Iskalkoo was upgraded in 2010, however, the public had no idea about it and hundreds of girls could not continue their middle schooling. The up-gradation of the school was made public when judiciary took notice and asked concerned authorities to sanction post for middle section of the school.
Though the construction of additional rooms  for middle classes started in 2014, the rooms have not been built and teachers are compelled to arrange classes in a nearby old building, which lacks toilets, good ventilation systems and young students have to do open defecation. Due to no enough rooms the girls' students are being educated in open sky and chilly weather.
One of the female teachers in Government Girls Middle Schools   Iskalkoo said that the school was facing lack of basic needs. "The school of 150 students is deprived of furniture and other basic facilities and the students are compelled to receive education on the floor." She added.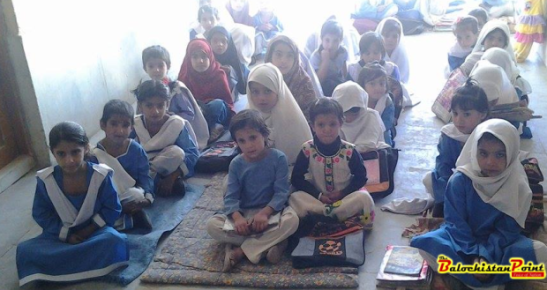 A Student of a sixth class disclosed: "Some of the students along with their school bags also bring old pieces of the mats and gunny to sit on them in class rooms."
"There are only four black boards for entire school and four borrowed chairs for ten staff members." A teacher told the Balochistan Point.   
A local notable Mir Sher Muhammad Shahwani said that government should pay attention to the problems of this fifty years old  school  and take steps to resolve them.
"There has been an immense dropout in last decades as a result of no teachers and proper attention of concerned authorities but we hope the newly appointed District Education Officers will cope with all flaws by releasing funds for building maintenance and teaching materials,"   Mir Sher Muhammad Shahwani told.
Staff Reporter 
Published in The Balochistan Point on November 16, 2017