Mastung: At least 22 people were killed and 29 others injured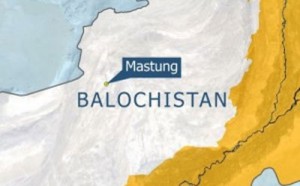 when a powerful bomb exploded near a pilgrims bus in Dringarh area of Mastung district on Tuesday evening.
According to initial reports, a Shia  pilgrim's bus caught fire after a powerful blast in Dringarh area of Mastung leaving 22 persons dead and over 29 injured on the spot.
Levies forces said the pilgrims' bus of Shia from Hazara community was coming from Taftan  to Quetta when the power explosion occurred in Dringarh area of Mastung some 50 kilometers from capital city Quetta.  
"Eight dead bodies were recovered and 16 injured rescued from the burning bus" told the Deputy Commissioner of Mastung. The DC of Mastung expressed fear that the death toll could mount further as the rescue efforts are still underway on the blast side.
Three pilgrims' buses in protection of Levis security vehicles were coming from Taftan but when first bus crossed the blast spot in Dringarh area of Mastung, a powerful blast occurred and one bus caught fire, told sources.
The dead and injured ones include children, women and levies men.
No group has claimed the responsibility yet.
President Mamnoon Hussain, Federal Interior Minister Chaudhry Nisar Ali Khan, Balochistan CM Dr. Abdul Malik and many others have condemned the deadly blast near' bus and killings of pilgrims in Mastung area of Balochistan.
Dr. Malik Baloch has demanded report of Mastung attack from the security agencies and said in a statement that the targeting a pilgrims bus is a very disgraceful action.
Hazara Democratic Party (HDP), Majils Wehdat-ul-Muslimeen (MWM), have also condemned the killings of pilgrims. The MWM Has announced three-day mourning and the HDP strike in Quetta on Wednesday (tomorrow) against killings of the pilgrims in the lethal blast.
Published in The Balochistan Point on January 21, 2014