Quetta: Chief Minister Sindh Syed Murad Ali Shah called on Chief Minister Balochistan Nawab Sanaullah Khan Zehri here on Wednesday. Sindh Ministers Mir Hazar Khan Bijarani and Nisar Ahmed Khuhro were also accompanied by Chief Minister Sindh.
Chief Minister Sindh expressed deep grief and sorrow with Chief Minister Balochistan over the tragic incident in Police Training College in which many precious lives were lost.
Both Chief Ministers agreed that terrorism is not an issue of any single province rather it is issue of entire country, and anti-state forces through subversive activities trying to spread lawlessness and turmoil in the country.
They showed commitment that through the power and support of masses the nefarious designs of anti- state elements would be frustrated.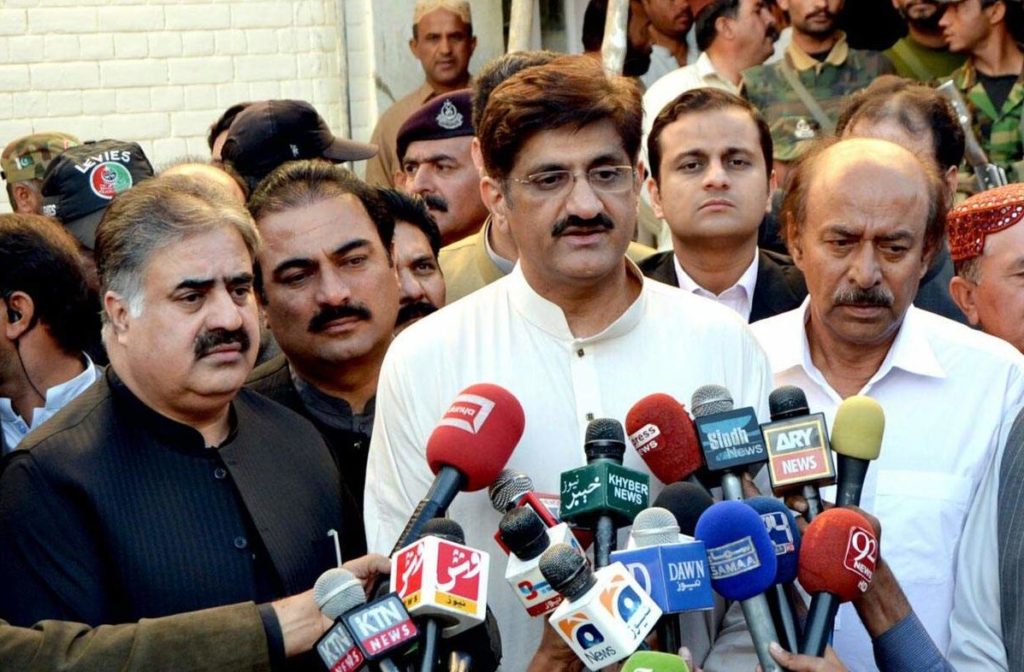 Chief Minister Balochistan apprising the details to Chief Minister Sindh said that suicide bombers were brought from outside the country while some local people played role of their facilitator, adding that we had information of terrorist attack however, owing to foolproof security measures the terrorists could not succeed in committing subversive act in Muharram-ul-Haram and later.
He said that our security forces briskly acted and cleared PTC within four hours saving a number of precious lives.
Chief Minister said that we are living in a conflict zone due to which we are facing security challenges, however Balochistan Government and security institutions playing their role to meet these challenges.
He said that media should carefully report on the issues related to national security keeping in view the sensitivity of the issues particularly the role of electronic media is very important in this connection.
Chief Minister Sindh expressing complete solidarity with Balochistan Government said that Sindh was also passing through a similar situation, however, now the situation is quite better now.
He expressed confidence that Government of Balochistan and Security Agencies would succeed in eradicating terrorism from Balochistan.
On the occasion, they offered Fateha for departed souls.
Balochistan Provincial Ministers Sardar Muhammad Aslam Bezinjo, Nawab Muhammad khan Shahwani, Nawab Ayaz Khan Jogezai, Muhammad Khan Lehri, Members of Provincial Assembly Nasrullah Zeray, Mir Akbar Askani, Ghulam Dastagir Badini and former Provincial Minister Ali Madad Jattak were also present on the occasion.
Staff Reporter
Published in The Balochistan Point on October 26, 2016