By: Yousaf Ajab Baloch
Saeed Ahmed, 27, was an 8th-grade student when he came to know that newly commenced construction at his home town Uthal was of Polytechnic College. Knowing this he was over excited that his dream could come true and he would become an engineer.
The construction of the building was completed some many years ago, unfortunately, Saeed Ahmed and hundreds of students and their parents still wait for the classes to begin.
"I am not the only one but there are hundreds of youth with middle-class family background who wanted to do professional engineering degree in their home district, however, such imaginations failed to be materialized by unknown reasons," Ahmed said.
"The utilized amount of more than a billion seems to be useless if this building remains unused," Saeed lamented, pointing at the building of Polytechnic College Uthal Balochistan.
According to the government sources more than Rs. 235 million has been utilized to complete the institute.
A well-constructed structure for Polytechnic Institute at Uthal close to the national Highway not only invites a number of questions but also leaves stunned the hundreds of passengers who travel on the national highway.
Government Polytechnic Institutes in the country provide three-year diplomas in the disciplines of Electrical Technology, Electronics Technology, Mechanical Technology, Civil Engineering, Computer Technology, Fashion Design, Information and Telecom Technology. In most of the institutes male and female students have an opportunity to obtain aforementioned diplomas.
Uthal is one of the tehsils of district Lasbela in Kalat division of Balochistan. Lasbela is the 7th largest district in Balochistan, consisting of 5 Tehsils and 22 Union Councils. This district is well known for its major mineral deposits of Lead, Zinc, Manganese, Chromite, Serpentine, Red Ocher, Iron Ore, Barite and Dimension Stone. Major mineral production includes Marble, Limestone and Shale.
District Lasbela is also known as the industrial zone of Balochistan, however, this is one of the backward districts in Balochistan in different sectors of life, rather than having special consideration it has always been ignored. Masses always seem to blame authorities and political leadership responsible for its backwardness.
The civil society representatives blame legislatures of the district that in parliament they do not raise the voice of the people; therefore, no development in every walk of life states a dismal situation and the politicians only suffice with promises and announcements.
Khalil Ahmed Roonja, one of the social activists in the district and a campaigner for functioning Polytechnic College Uthal says that they have been striving and campaigning for the promotion of education in the district.
"Every year we launch campaigns, request politicians and higher authorities for allocation of funds for Polytechnic College Uthal but no one shows interest. Time and again we approached secretaries of Technical Education and Finance Secretaries of Balochistan but our demands are given deaf ear," Khalil told the Pak Voices.
Khalil said that with the development of China Pakistan Economic Corridor (CPEC), there would be a great demand of skill-oriented workforce in electrical, mechanical and electronics technology related to the multi-billion-dollar project, but due to non-availability of the technical institute, the fate of students in Lasbela looked frustrated.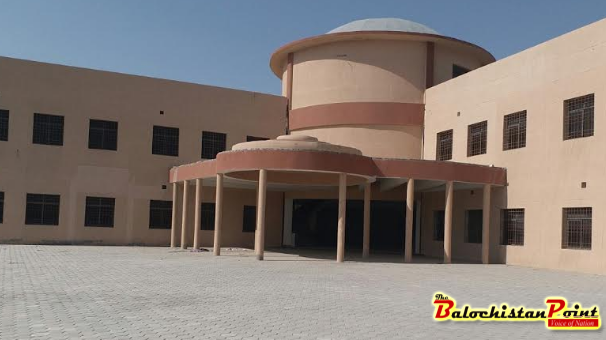 However, Jam Kamal Khan, the Minister of State for Petroleum, and elected legislator from district Lasbela justified in a nutshell about the reason behind nonfunctional Polytechnic College in Uthal.
Talking to the scribe Mr. Kamal said: "The construction of billions worth Polytechnic College Uthal building was started by late Ex-Chief Minister Jam Muhammad Yousaf in 2003-4 on our recommendation for better opportunity, however in the tenure of Aslam Raisani as Chief Minister of Balochistan, all development budgets of PB 44 were closed and that included Polytechnic and Residential College Uthal and work remained closed for whole Five years."
"After new government, there was a huge issue of lapse of five years rates and rest changes too. Chief Ministers of Balochistan Dr. Malik Baloch and Nawab Sanaullah Zehri did not show considerable promptness, yet some progress continued. Most probably in few months it's staffing and rest shall be done," Jam Kamal Khan explained.
Elected member of Provincial Assembly from district Lasbela, Prince Ahmed Ali Ahmedzai also told this scribe about his personal and official efforts to make this institute functional and get allocated budget for it. He said that he had requested former chief minister of Balochistan for allocation of budgets; conversely, no heed was paid towards the issue.
When we talked with Commissioner Kalat division Muhammad Hashim Ghalzai about the matter in hand, he said that the civil work component of college had been completed many years ago, however, the delayed launch of classes or academic activities could not begin due to no staff appointment and unavailability of machinery which depended upon the role of concerned department and allocation of funds.
"Having seen the demand of the current time and China Pakistan Economic Corridor (CPEC) requirements, on our request the administration of National Fertilizer Corporation (NFC) Institute of Engineering and Technology visited the Polytechnic College Uthal building where we wanted them to run some Engineering disciplines in the campus with their technical assistance. For the purpose, we moved a proposal to education department Balochistan, yet they did not show any interest," Commissioner Kalat added.
National Fertilizer Corporation of Pakistan is one of the largest institutes of qualified engineers particularly in the field of Chemical Engineering.
The importance of technical institutions in any region can never be ignored. In the modern era of science and technology and implementation of latest research in every walk of life from advanced techniques of construction to advancements in automobiles industries around the globe, clarifies that a nation can achieve only these goals by advancements in its technical education.
Enlightening the importance of technical education, one of the officials of Balochistan Engineers Association, Engineer Malik Dad Dehwar says that proper technical education and its implementation provides facilities to people and a nation and in the least developed country like Pakistan it is utmost necessary to compete with the modern world.
Emphasizing on the great significance of engineers or engineers from a technical college Mr Malik Dad told Pak Voices: "diploma holders from any polytechnic college play a vital role in the development of a province and country because technical education and modern technology for a developing country is very necessary.
Qualified diploma holders of a polytechnic college provide assistance like surveying and provision of data which helps design engineers to design a project like Dam road or a building etc they are the backbones for designing of any project."
According to the experts, the construction of the polytechnic college in Lasbela district is of great importance. The increasing population rate and insufficient reserved seats of various districts of Balochistan at the Quetta Polytechnic Institute are not enough; since the Institute in Quetta does not fulfill the required human resource in the field of science and technology. As it is in an industrial zone which is also far away from Quetta so the Polytechnic College Uthal must be functional in Lasbela district.
Yousaf Ajab Baloch is freelance journalist and editor-in-chief of The Balochistan Point. Follow Yousaf on Twitter @YousafAjab.
Published in The Balochistan Point on February 21, 2018