Peoples Primary Health Initiative-Balochistan (PPHI-B) is envisioned in provision of sophisticated health care facilities to the deserving masses, with pragmatic approach of community participation in eliminating poverty.
PPHI-B Is a non-profit company registers under the Section 42 of companies' ordinance 1984. In Balochistan the administrative control of Basic health units in the province is entrusted to PPHI.
Contemporarily, PPHI is engaged in providing sophisticated health care facilities to 631 BHUs of all districts in the restive province. Ten components of PPHI in provision of primary health care facilities include: Community participation, Provision of essential drugs, curative care, non-communicable disease, health education, improve nutritional status, immunization, maternal & child care, mental health and provision of safe drinking water.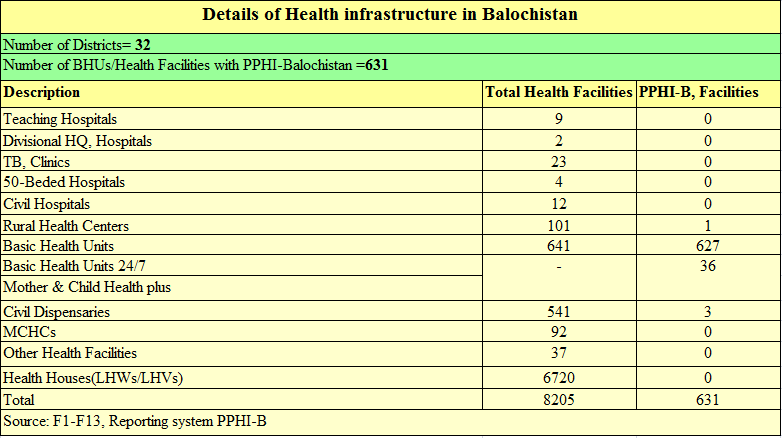 It is pertinent to mention here that the current Chief Executive Officer of PPHI-B is Mr. Rashid Razzak, who is dynamic, spirited, gracious, courteousand have sparky leadership skills. He is keenly enthusiastic in boosting health indicators pragmatically by providing best health care facilitiesin utilizing all that by will and mean.
If we look in to the indicators of PPHI-B in its recent published second quarterly report (April-June 2016) areprogressive and the entire team has achieved their set targets remarkably, PPHI-B targets are set on monthly, quarterly and yearly basis.In its quarterly report it indicates that in its Preventive care (Health Education) has achieved 865 out of 990 social groups meetings, in Community Health sessions a target of 904 out of 990, Schools/Madressa Health sessions 823 out of 990 were achieved. Uniquely, in Immunization side 16089 targets was set out of this 10979 children and 6377 out of 31513 pregnant women were immunized.
 Read Also:  PPHI Balochistan: A good Instance of Excellent Management
In its curative care side operations the team of PPHI-B, has conducted 859021 out of a target of 814096 OPDs which is more than the set targets, 5102 malnourished children were treated, 149 patients of Tuberculosis were medicated, 4515 Hepatitis B & C screening tests were conducted successfully, 7832 cases were rather referred to Higher Health facility.
In the Monitoring, supervision & reporting side 1810 visits were made by DIHS, DSM/ADSM visits of 1031 were made and 983 visits by the M&E officer made.
Adding more, 105 doctors and lady doctor's services were hired, with their incumbent services of medical services improvised by adding the medical coverage enhanced to 67% of BHUs through clusters, the government related budget amounting Rs ,50.2 million in the financial year 2015-16 accounts less than 5% of total health budget for a catchment population of more than 43% of the entire province. PPHI-B is a perfect example of a cost effective public private partnership showing a pathway of solution to our chronic health and educational problems.
Published in The Balochistan Point on December 27, 2016