Quetta: Parwaan National Center of Excellence organized an orientation session on 30th March to create awareness on the importance of Early Years Education and Development (ECED) among parliamentarians.
According to Parwaan press release, the aim of the session was to sensitize the audience about the strong link of right nutrition and health care in early years with later learning and academic successes and also draw recommendations/way forward on implementation of Balochistan ECE provincial plan. Members of parliament, civil society and journalists attended the session. The agenda of this session was to take Balochistan government on board to ensure better coordination and effective implementation of ECED activities in Balochistan. Ms. Seema Zia, Program Manager ECED, and Ms. Saima Qadeer, Lead Coordinator Parwaan National Center of Excellence facilitated the session.
Parwaan National Center of Excellence on ECED is created in collaboration with the Ministry of Federal Education and Professional Development in collaboration with Children's Global Network Pakistan and is housed at Academy for Education Planning and Management.
Parwaan's underlying mission is: 'Full development of a child employing comprehensive integrated approaches that engages all sectors- education family, social protection, health and nutrition. Parwaan is a National Apex body mobilizing Federal as well as Provincial government to follow and implement Sustainable Development Goal #4 target 4.2: 'By 2030 ensure that all girls and boys have access to quality early childhood development care and pre- primary education so that they are ready for primary education'.
Parwaan since its inception in January 2015 has taken initiatives for promotion of ECED, concepts and methodology in both the public and low cost private sector, building capacities of universities to develop courses on ECED for future teachers and entrepreneurs, undertaken situation analysis on ECED to identify gaps and inform the policy makers of the findings and consultative meetings to get policy recommendations on ECE.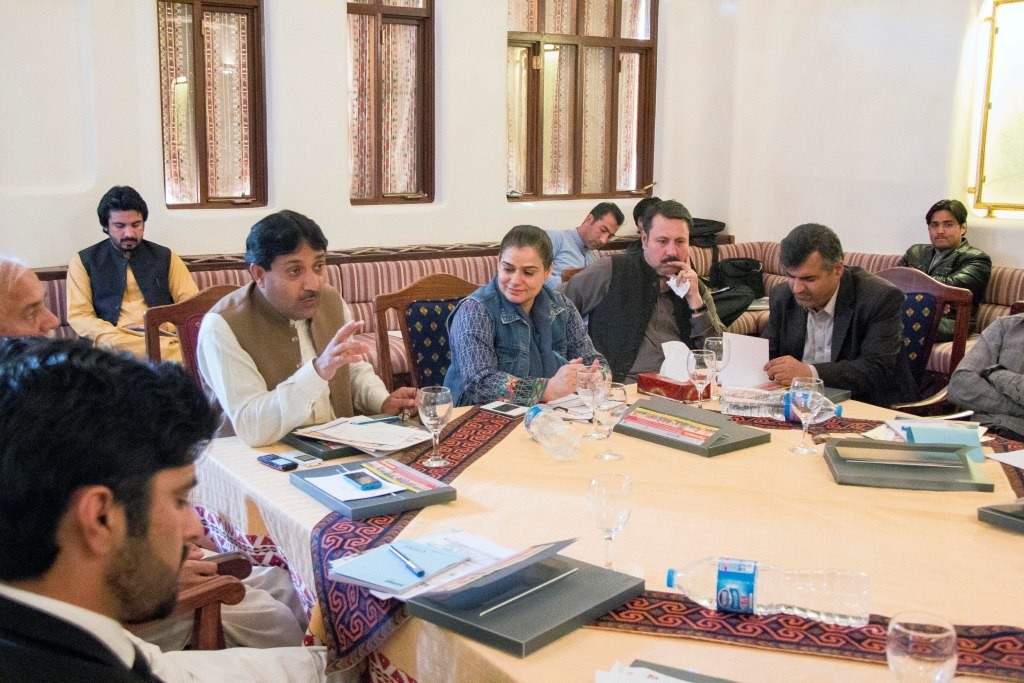 To create an enabling environment in the country for the balanced physical, emotional, social and cognitive development of all the children, it is important to sensitize public leadership and policy makers on the importance of early years education and development It is important that all the stakeholders should join hands to create an enabling environment in the country for the balanced physical, emotional, social and cognitive development of all the children.
Mr. Shahid Saleem, Senior Journalist from Dawn News, added his comments that teacher unions are strong and they should play a positive role in the improvement in education system of Balochistan. He also pointed towards the dilemma of around 900 ghost schools in Balochistan.
Mr. Nasarullah Zairay, Member Provincial Assembly (MPA), replied to the participants informing them about the efforts of government to ensure quality education. The provincial government is crucial steps in improving examination system, transparency in process of teacher recruitment, and remuneration to teachers, and teacher student ratio that must be acknowledged and appreciated. While concluding, he appreciated the efforts of Parwaan in ECED.
Participants gave very encouraging response during the session. Specially, Ms. Samina Ahmed, Chairperson Standing Committee for Education, Balochistan, concluded the session by expressing her views, She highlighted many critical issues during her speech. She shared that government owned schools are producing the best brains of the province at a considerably lower cost as compared to private schools. She also stressed on effective improvement and implementation of policies for better education in the province. She concluded her remarks by highlighting the importance of ECED in upbringing of a civilized and valuable individual in our society. Ms. Samina appreciated the efforts already in place to improve the situation at a rapid rate and expressed commitment to work hard   to paint   even better picture for the children of this country.
Web Desk
Published in The Balochistan Point on April 01, 2016