Iftikhar Ahmed Baloch
On the one hand the world is developing to the fastest pace the human civilization has ever witnessed on the other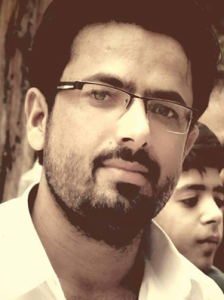 hand same is our pace towards decline, whether it is the social, educational or the infrastructural. Balochistan is the only place in region which is facing decline in all those walks of life which mark any area or a nation well developed, and some   examples of Quetta are enough to justify it.
Quetta is capital city of Balochistan, it is a city which has glorious history of vigor, valor and beauty: beauty of faces, beauty of hearts and last the beauty of its buildings and orchards. In 1891 the first western traveler D.H Windit when entered Quetta he felt inferiority to the glamour of Quetta. On entering from west into the city he says ''At 8 a.m. on the 14th of April we sighted, afar off, an oasis on the dead green plain, of long barrack-like buildings, garden-girt bungalows, and white tents. We had reached our journey's end. The church-bells were ringing as I rode into Quetta, for it was Sunday, and, unfortunately, a bright, fine morning. Had it been otherwise, I might have been spared the ordeal of riding, on a very dirty and attenuated camel, past a crowd of well-dressed women and frock-coated men on their way to city.''
It was the nature which demolished the city in 1935 where famous figures of the history stayed. Mehmud O Ghazna, The Mughal emperor Humyun and his Son Akbar 'the great' stayed here for some timen but British later made enough efforts to rebuild it. I have heard from people that it is natural to love the place where you opened your eyes and grow in the streets. This famous rhetoric seems to be untrue to me if I see the Quetta and its inhabitants.
There are many factors which turned the beautiful city into a bulging center for ethnic hate, killings, blasts and bloodshed. However, we the townsfolk also played our role to turn the ''orchard'' city into mismanaged jungle of concrete. We chopped the trees to increase our land area for profits. We are wounding our mountains for concrete homes.
According to a UN report Quetta is among three ''water stressed'' cities which will ''turn into dust till 2040'' is it how we are planning and serving our city to witness it as dessert in our own lives by pumping the underground water by having tube wells in every alternative home?  This shows a dismal picture of our civic obligations towards our city.
The other reasons which are adding into the miseries of the city are changing socio-economic condition of the province. Traditional sources of income are changing in the province and people are moving toward cities for education and employment.
Quetta is the only city with some institutions and job opportunities. Almost 30 percent of interior Balochistan has moved to Quetta for above mentioned reasons. Afghan war resulted influx of 1 million refugees into the city. The refugee slums in the city became hub of social crimes and terrorism. The hospitability is costing the safety and lives of natives who were living here for centuries with peace and harmony. Government is more accused of current situation of city, there is no proper planning with broaden vision for management of the city, proper civic planning with responsible metropolitan body for development management and maintenance of city is need of hour. Refugee camps must be established out of city or managements must be done to send unregistered immigrants back to their native country to preserve the sanctity of city.
The city which used to be favorite summer resort , now it has become city of fear and filth, half of the city is not included in the metropolitan, it has turned into bulk of garbage and the waste management does not exist from scratch. It is the only city which is having the lowest top records on all over the world now. It is among the top three water stressed cities in the world and it also has the records of being among the top most polluted and unsafe city in the world. It also has the record of being only metropolitan in the world where there is not a single functioning traffic signal light.
Thus, the reasons which used to be pride are now reasons for humiliation for its habitants. Some are due to the reluctance of the government and others due to the townsfolk. It's the civil society which is responsible for creating awareness in masses for their civic obligations. We, though, obsessed with claiming our rights but are never bothered to fulfill our obligations towards our society and it is one of the main reasons for decline of our society. We have to stand up with will and vigor to bring back the glory of our city.
Published in The Balochistan Point on March 1, 2016
Disclaimer: Views expressed in this article are those of the writer and The Balochistan Point not necessarily agrees with them.