By: Shayhak Nazeer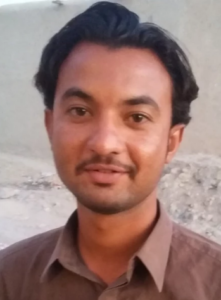 History remembers the people who work for the betterment of their nation and the people who give priority to their language and literature. Sheheed Mehmood Hassan is a shining example of it who is no more in this world but his thoughts, contributions to Baloch nation and literature made him alive in the pages of Baloch history.
Mehmood Hassan, 25 years young Baloch lost his life in attack Quetta at Police training college. Mehmood belonged to a small village of District Kech, Jusak. He did his B.A at Atta Shad Degree College Turbat; he was so interested to move for higher education, unfortunately, it was not affordable for his parents. He was also known as a great player of Youth Eleven Star Jusak, a football team of youngsters.
However, before joining Police department, he was also a great supporter for his parents in earning bread and butter. In search of jobs for many years finally he successes in being enlisted as a police constable along with 450 candidates. After being selected as constable he expressed that it was a turning point for his life for getting a post in this country and he was anxious to get his order to for training in Quetta.
Also Read: The bloodshed in Quetta
I can vividly remember while he came to me said that he was going to leave for his training to Quetta and hugged gladly since it was remarkable achievement for his life, left for training.
The night of 24 October 2016, It was Monday when I heard a friend saying that Mehmood had died in attack of PTC. I could not believe my ears. The tension was mounting as the factual news hit me like a bullet when I heard it is not only Mehmood but my two other beloved friends including the most talented footballer of District Kech Sirtag Ghani , Yousf Chasari who were the victims of the same attack. The news of their death brought a complete silence in Turbat. The untimely news of their death not only stunned me but several other families, friends, players and people from different walks of life were shocked.
I am unable to forget him since his departure; I still feel he is in Jusak. His voice is still in my ears, his words are still in my notebooks, his vision is still in my mind and friendly attitude is still in my heart. He may not be visible to me but he can never be out of my heart. I believe his contribution will always be remembered. I wish I could spend many more days with him…
The writer is regular contributor to The Balochistan Point
Published in the Balochistan Point on October 6, 2016