By: Zahir Karim
Road traffic accidents have killed millions of people worldwide and thousands of people in Pakistan. According to Pakistan Bureau of Statistics Government of Pakistan, from 2004 to 2013 more than 50 thousand people have died in more than 100 thousand accidents.
Though the developed countries have reduced the rate of accidents by using various prevention tools and enforcing traffic rules on priority basis, unfortunately, developing countries still adding figures in the matrix. Road traffic accidents take place massively in Pakistan and most of them are not reported in systematic way for data analysis and remedial measures.
Balochistan, least developed province also adding pretty much numbers in Road traffic accident chart. Although road traffic accidents are being reported by local police and Levies through radio messages, which also become part of official document but there is no data management mechanism for this purpose. District Administrations reports Road traffic accidents and considered itself discharge from responsibility.
Quetta to Karachi Highway (N25) is one of the busiest Highways of the province. A number of 156 fatal accidents out of 158 reported from 1st Jan 2015 to Feb 2017. Among 158 accidents, 175 people reported died on spot and 436 people got injuries. (How many from 436 have survived or died later on, not reported).
As affordable transport mean, public preferred to transport through passenger buses/ coaches, coasters and wagons, on this this rout, i.e N25. Massive amount of accidents indicates the neither drivers abide by traffic rules nor transport company owners tried to implement the rules. Almost all Road traffic accidents take place due to irresponsible driving with over speeding and over loading. Many passenger have reported the public transport heavy vehicles travels at 120km/h to 145km/h speed and light public transport vehicles drive 140km/h to 160km/h and higher than 160km/h. some passengers also tried to request the driver to slow down the speed but the rude behavior of the drivers observed in response.
On N25 Highway from Quetta to Karachi to Quetta no signboard of maximum speed limit is higher than 100km/h. obviously, it means that the engineers while construction of the road had studies the perfect speed limit and the Highway has designed for less than and equal to 100km/h speed. Any violation of speed limit may results Road traffic accident. Motorway patrolling teams have been deployed on N25 Highway from Quetta to Kalat (Surab) but the deployment has not been successful so far.
The astonishing matter is, people are losing their lives in Road traffic accidents on daily basis but no politician, public figure and government authority come forward for sorting it out for life and property saving. Driving license issuing Department has confined itself for issuance of license. Never bother for regular check and balance. Driving a vehicle and following traffic rules is very important combination for driving on Highways. In this context a very inverse mind set can be seen among masses, especially in drivers circle. The mind set of drivers and public is "How much time did you take to reach?" The driver feels inferiority if the counterpart took least timing for covering the same distance. This mind set provokes over speeding and violation of traffic rules.
National High Way authority also does not disturb itself to control overloading or fixing any part of road that causes accidents. Maximum number of road reflector Cat eyes have been broken or detached, the leftover nails cause punctures and burst the tyres which also results in accidents. Deep slopes, irregular curves and many other accidents causing issues awaited for NHA's swift response.
Despite a large number of accidents still no government authority ever tried to fix the problem. The families of those who have died in road traffic accidents and injured also never demanded to make road safe.
It is request to all concerned authorities, civil society and public to play their utmost role for stopping road traffic accidents at their earliest.
According to Office of the Commissioner Kalat (1st Jan 2015 to 1st Feb 2017)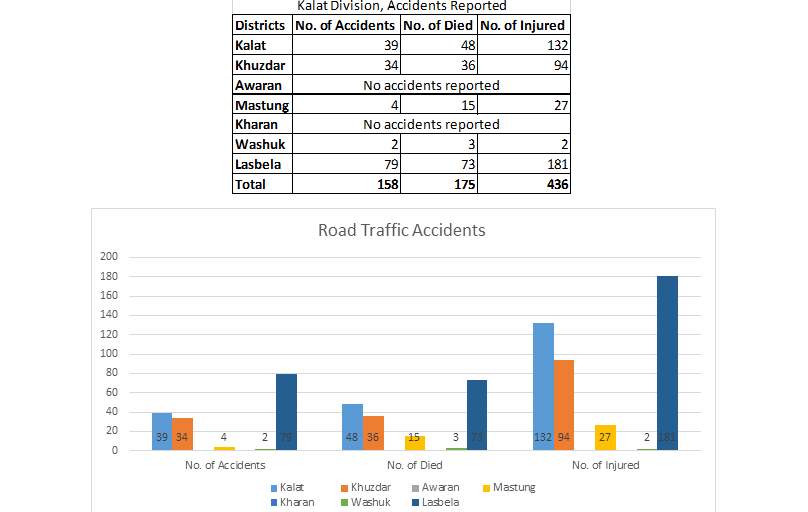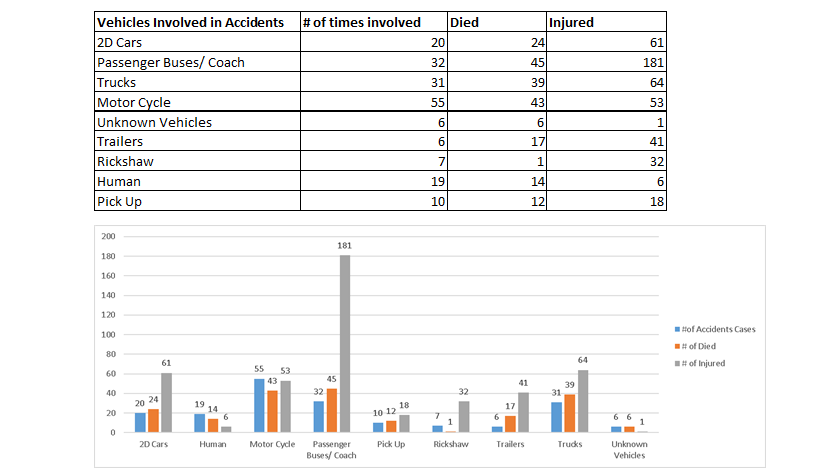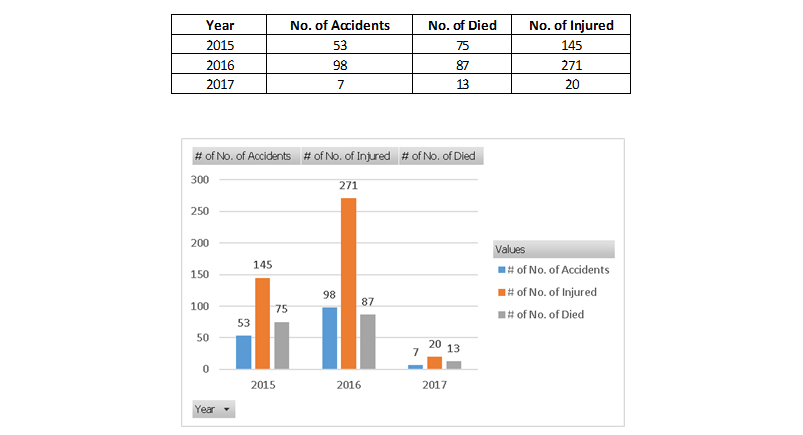 Published in The Balochistan Point on September October 1, 2017