QUETTA: Provincial Home minister Sarfaraz Bugti has termed early child marriage an alarming social issue in Balochistan. He assured that he would make efforts to table bill in upcoming assembly session for enactment of Balochistan Child Marriage Prohibition laws. He made these comments while speaking to the participants of Provincial level Advocacy Consultation with Policy Makers from Social Welfare Department, Ministry of Human rights, CSOs and other stake holders for approval of child marriage prohibition  Law here on Tuesday.
Health and Rural Development (HARD) with the assistance of Mundo Cooperante in collaboration with Child Rights Movement and Balochistan Women Network arranged the workshop in Boys Scout Hostel Quetta. HARD has launched the advocacy and lobbying campaign in Balochistan for enactment of Child Marriage Prohibition laws in Balochistan.
Mr. Sarfaraz Bugti said that early child marriage in Balochistan has become a great challenge for human rights defenders and they should continuously raise voice against it.
Former secretory Social Welfare Dr Kahoor Khan, Director ministry of Human Rights Jehan Arah Tabasum, coordinator Child rights movement Abdul Sattar Baloch and Executive Director HARD Munir Ahmed were among the chief participants of the event.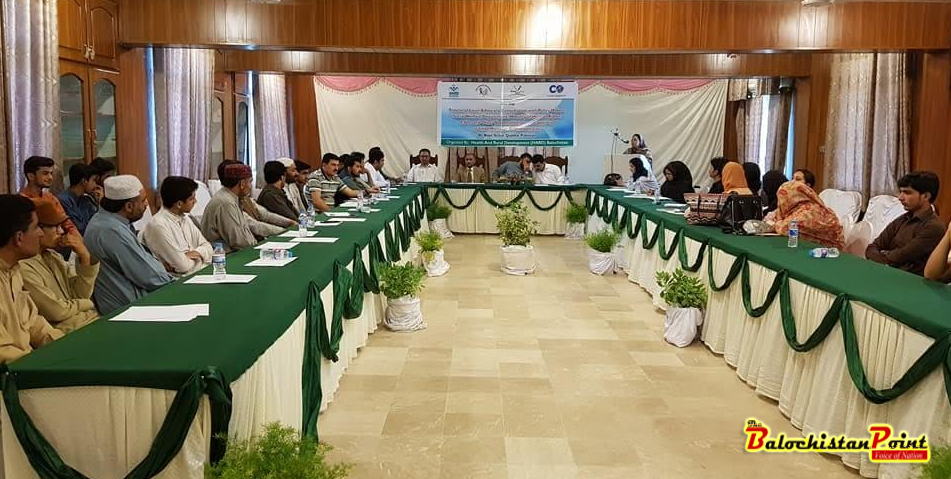 Director ministry of Human Rights, Jehan Arah Tabsum said that department of Human Rights was active for protection and promotion of human rights. "In collaboration with social organizations we are working to ensure human rights, particularly, children and women rights." She added
Talking to the participants' coordinator Child Rights movement Abdul Sattar Baloch highlight harmful effects   of child marriage and life threats to married children and long lasting effects in all stages of life.
Executive director HARD Munir Ahmed shared that 50% child marriage is occurring in Balochistan where 60% girls and 40% boys are forced to marry. 
Human rights activist Saima Haroon, Mr Naseer Shah, advocate Abdul Hai Baloch. Zulekha Resani and Zia Baloch highlighted prohibition on child marriage and shared their determination to work together with human rights activists and legislators for enactment of Balochistan Child Marriage Prohibition laws.  
Staff reporter
Published in The Balochistan Point on May 18, 2018