By: Rafiullah Mandokhail
ZHOB: Government Teachers Association (GTA) Sherani after a successful meeting with Deputy Commissioner Abdul Khaliq Mandokhail and District Education Officer Sheikh Haji Musa Khan Mandokhail called-off their week-long token strike on Friday as 'Salam Teachers' Day' was observer across the country.
DC Mandokhail assured the teachers that he will take steps to resolve their issues. An office bearer of the teachers' association confirmed the successful meeting with officials and said they would resume their duties at government-run-schools.
Meanwhile, at FG high school a ceremony was held to mark 'Salam Teacher's Day'. The event was attended by teachers, parents and students in a large number.
Speaking on the occasion, principal FG high school Abdul Manan Hariphal said the Day has been commemorated for two decades, when it was announced by the UNESCO around the glob. The main objective of 'Salam Teachers' Day' is to highlight the unique services and vital contribution of the teachers to the society. He said.
Awards and appreciation certificates were also distributed among the teachers for their services towards education.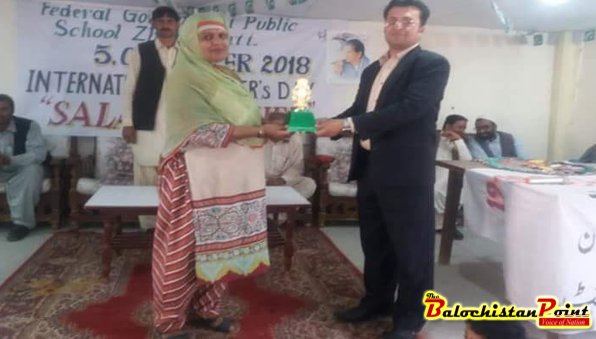 Principal Wadh Sheikh high school Wazir Khan Nasar and principle high school Wiyala Mir Baz Babrak Khan Mandokhail in their messages said that marking the day is aimed at highlighting teachers' role and importance of their auspicious profession.
'Salam Teachers' Day is to pay respect and tribute to teachers f:or their selfless role in nation building', adding the entire society revolves around the teacher. Keeping in view the government should pay special attention and make efforts to keep teachers motivated and devoted with their profession. They demanded.
It is to be mentioned that 'Salaam Teachers' Day' is observed on October 5th every year. The day is being celebrated since 1994, as proclaimed by the United Nations to recognize the teaching profession and raise public awareness about the vital contribution of teachers in the society.
Published in The Balochistan Point on October 5, 2018