By:  Sima Batool Sahar
Quetta: The Balochistan Point online English newspaper from Balochistan has launched its mobile app for mobile and tablets. The mobile app is now available on all Android devices with no charges.
The app comes with lifetime free access to readers who download it through Android devices Appstore. All the available categories can be found in version of the app.
After downloading the free app the readers can read posts from more than 15 categories they are interested in, including: Balochistan, national, International, news, opinion, features, blogs, editorial, letters and Interviews.  They can also watch videos and reach YouTube channel of Balochistan Point.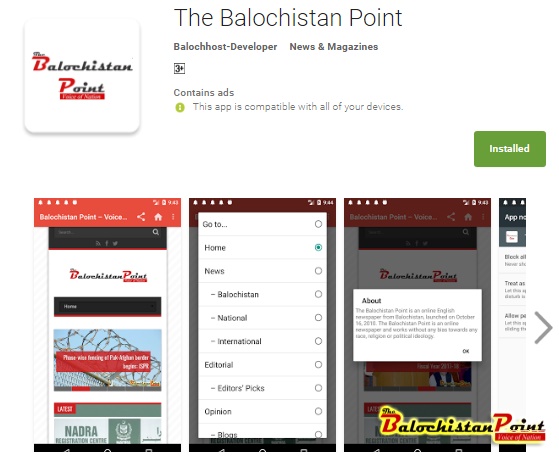 The Balochistan Point was launched on October 16, 2010. It is one of the first online newspapers working for more than seven years to cover Balochistan. The volunteers of The Balochistan Point launched it to keep reporting on human rights abuse, political, social and economic issues of Balochistan.
The newspaper works without any bias towards any race, religion or political ideology.
Balochistan Point stands for human rights, democracy, social and economic justice. The newspaper aims to mirror Balochistan.
Click to download The Balochistan Point App.
Published in The Balochistan Point on July 4, 2017