QUETTA: Chief Minister Balochistan, Nawab Sanaullah Khan Zehri has said that traditions such as brotherhood, tolerance, hospitality and respect for each other were the identity of our province. "Keeping all these traditions alive and intact is our joint responsibility," he added.
Chief Minister Balochistan expressed these views during a traditional ceremony of nomination of newly designated Sardar (Chief) of Jattak Baloch tribe, Sardar Ali Muhammad Jattak here on Thursday.
Senator Mir Niamatullah Zehri, representative of Khan of Kalat Prince Yaya Jan, MPA Prince Ahmed Ali Baloch and Sardar and notables hailing from Jjalawan area of Balochistan attended the ceremony.
Chief Minister said that it was the responsibility of all Sardars to work for the welfare and development of their people adding that Sardar Asad Khan Jattak set a great example by designating his son the new Sardar of Jattak tribe in his life. "Such steps help avoid disputes," he added. He said that God had made tribes so that we could identity each other's thus we should intact our traditions and values through promoting love, brotherhood and tolerance in our society.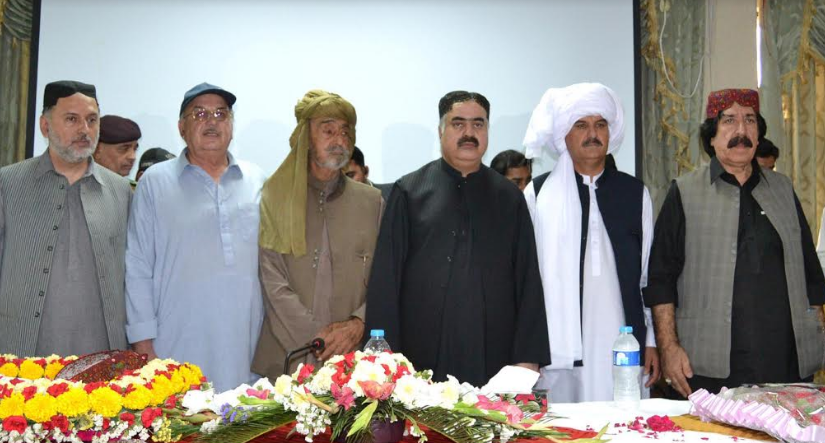 Nawab Zehri said that being Chief of Jhalwan was more important for him as compared to the slot of Chief Ministership. "Today I am so glad that we are promoting the centuries old tradition which dates back from the period of Khan Naseer Khan Noori," he remarked.
He said that the newly nominated Sardar of Jattak tribe would play his crucial role for the welfare of people through adopting the footsteps of his father and forefathers. He said that being Chief of Jhalawan he would extend all support to the newly nominated chief of Jattak tribe.
Earlier, Chief Minister Balochistan and other Baloch Sardars and notables in accordance with Balochi tradition placed Balochi turban on the head of newly nominated Sardar and felicitated him for his new responsibility.
Staff Reporter
Published in The Balochistan Point on July 27, 2017