By: Jafar Masttoi 
KHUZAR: Commissioner Kalat Division Mr. Muhammad Hashim Ghilzai inaugurated   a two-day book fair on Monday 14th at the Balochistan University of Engineering & Technology Khuzdar, Commissioner Kalat , Controller of examination BUET Khuzdar  Mohammad Anwar Sarpara encouraged and motivated the participants of the event to develop the habit of book reading.
A large number of well-known scholars, all heads of departments of the university of Khuzdar, teachers and students were present at the opening ceremony of the event. The event was organised by students of with the collaboration of administration. The event started with the zeal and enthusiasm of bibliophiles.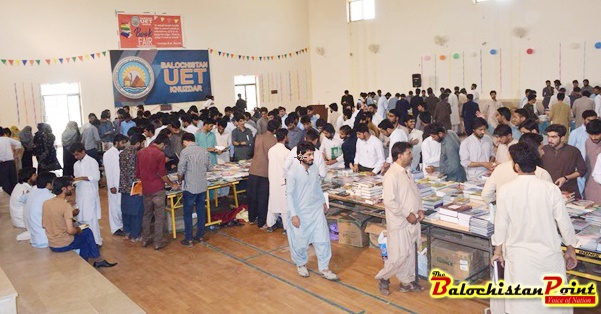 Various booksellers and publishers from Islamabad, Quetta, Khuzdar   set up their stalls in the fair to offer books on discounts. The books on display included collections of books including engineering, culture, History, English, Islamic studies, social sciences, as research work, poetry, science fiction, Novel and Politics etc.
Students from BRC Khuzdar, Boys and girls degree college Khuzdar and many other educational institutes participated.  
Personally talking with the spokespersons of the event Mr Ayaz Noor EED Final year, Mr Abdul Hayi EED Final year and Mr Zainullah MED Final year students said that the objectives for holding a two-day book fair were to promote education and knowledge by making books available to students, educationists and other bibliophiles. They added that book fair could play a momentous role for revival of library culture.
Publish in The Balochistan Point on May 17, 2018