Shahjahan Baloch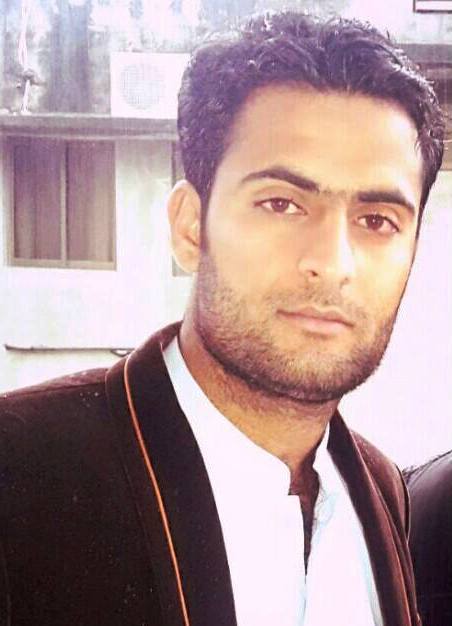 Art, especially fine art is the architect of harmony that human soul always desires for. It rubs the ordinary dust of the time from objects and immortalizes them. It seeks completion in the mind of the one who sees it, reads it, hears it, and understands it. It is the untold tale of centuries; it highlights what is often blurred in the common vision.
History tells us that art has always been an inseparable part of human nature, we can find the traces of early art in the primitive caves of Stone Age. Whatever activities the ancient people did, they painted it, from hunting to religious rituals. Art, in a way determined the existence of man. Where there was art, it turned out to be proof of human existence. Since then, mankind has witnessed certain periods influenced by art and artists, From Greeks to Aryans of India, from Islamic calligraphy and architecture to the Pr-Raphaelites in Europe. Art has greatly influenced mankind. Let there be myriads of mystery in Da Vinci's smiling Mona Lisa, or the abstract art of Picasso, one just cannot avoid the permanence with which they have made their ways into the aesthetic lives of mankind.
Pakistan does not have much to celebrate when it comes to the appreciation of art. Especially in Balochistan, the artists, although have not shown great achievements like others, but nevertheless they have incredible contributions which cannot be looked down at. Balochistan is known for its pishey art work and embroidery, which is delicate needle work. The forts in Balochistan are also evidence of Baloch contribution in architecture.
Today, where, a form of art "painting" is contributing to human civilization. Baloch youth, despite their limited resources, are not lagging behind. A lamp in the shape of youngsters like Fayyaz Baloch still flickers and lightens up the utter darkness of time. Fayyaz Baloch is one of those great but yet unknown young artists who bring highly creative thoughts on canvas. Fayyaz Baloch speaks very less, the reason he admits he cannot express himself with the words, he communicates his thoughts in the form of painting.
The dark and difficult phase which Balochistan is passing from art is not less than tragedy but this young artist seems to be determined in addressing debates through his art. Those who are familiar with his works will acknowledge that his visionary works provide new way of thinking to youth. His works provide space to audience to create their own stories and interpretations.
This young artist of only 21 has received no formal education of art; he is student of economics, currently enrolled in National University of modern languages, Islamabad. He uses the brush, oil and canvas to paint. Sufism and spirituality are the areas where he mostly applies his brush. His works define his multi-dimensional personality, deep, silent and sensitive. The depth of his imagination and thoughts is visible from the colors and symbols which he implies, each color contains a deep meaning and message with in it. A single portrait may sound ordinary to others but takes him thousands of strokes to express his imagination. The composition of content and form takes him a long process of serious contemplation. As every artist loves philosophy, history and literature, Fayyaz has no exception. At the same time he is disciple of German philosopher Nietzsche and admirer of Guru Rajneesh Osho and also seeks asylum into the folds of Sufis and mystics for spiritual inspiration. He is a living paradox in absolute manner. One can easily feel the influence of "Shams Tabraiz" on his art. He has very artistically transformed the literary imagery of Shams into Visual dictum. Though, the transition has always kept his existence and individuality at stake but his art has enabled him to survive.
Like every youngster of Balochistan he has sentimental attachment with revolution and revolutionary heroes, he seeks inspiration from and pays them tribute through his brush, irrespective of geographical boundaries and ethnic constraints. Walls of his an "artist's studio" like room are replete with sketches of Che Guevara, Malcolm X, Karl Marx and Mir Mohammed Ali Talpur. He not only brings indigent and impotent people on his canvas for the theme of poverty but also feels their miseries. He has donated his paintings for the starving kids of Thar.
Triumph and acknowledgement has been his companions, wherever, he has presented his art. For consecutive three years he has won first prize in fine arts department of cadet college Mastung. On 13 may, 2015 a poster competition with theme of "street life" was organized by arts and graphic society of National University of modern languages, Islamabad, where his painting with theme of "when world is only a piece of bread" stood first. In this painting he has used a wide range of colors, each containing a mystery, to illustrate a woman begging in the street carrying a piece of bread.
Woman in Balochistan are not backward in this field. Shereen Baloch is another young artist from Balochistan, tribal societies never encourage talent of women but Shereen Baloch appears to be a rebel lady. She is elder sister of Fayyaz Baloch; she has played great role in discovering and further grooming Fayyaz's talent. Shereen Baloch has also received no formal education of art; she is responsible house wife and also a revolutionary artist. She makes sculptures, sketches and portraits. She contributes in politics of Balochistan through her art.
The contribution of Balochistan government in promotion of such talent is zero from the outset but efforts of another senior artist Akram Dost Baloch and his family is laudable. Akram Dost Baloch and his family are initiating 2-years diploma courses in fine arts, in Quetta. This institution of art is ray of hope for the young artists of Balochistan, but this does not dislodge the government from its responsibility. The trembling and pseudo-autonomous government of Balochistan should take some serious issues to showcase the art of young artists and encourage them. This is the only way through which they can earn some good feedback from Baloch Youth, which is otherwise harsh critic of self-centered government policies.
Author is student of English literature and linguistics in National University of Modern Languages, Islamabad.
Published in The Balochistan Point on May 20, 2015
Disclaimer: Views expressed in this article are those of the author and The Balochistan Point not necessarily agrees with them.