Sami Parvez
Turbat – School girl students in Buleda locality of district Kech protested against lack of proper facilities in schools, on Thursday.
Young school girls protested while holding placards and chanted slogans against lack of most basic facilities in their school.
One placard read; "We should be provided teachers so that we are not deprived of blessing of education."
"There are no teachers, schools boundaries, drinking water, proper class rooms and several other problems in our school," said a protestor.
Protestors demanded Chief Minister, Dr. Malik Baloch, to take urgent action and solve all the problems of Girls school Buleda.
At the moment educational emergency is imposed in Balochistan. "Girls school in home district of Chief Minister don't even have boundary walls, that give a hint about nature of educational emergency," a citizen told The Balochistan Point.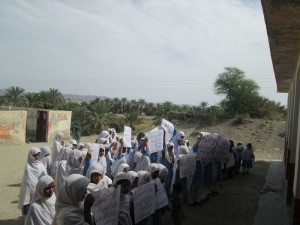 Staff Report
Published in The Balochistan Point on March 20, 2015