By: Saeed Yousaf Baloch
Lasbella, Sonmiani: – In a remarkable display of unity and dedication to preserving the natural heritage of Balochistan's coastal regions, Government of Balochistan and the World Bank funded project, Balochistan Integrated Water Resources Management and Development Project, in technical collaboration with IUCN Pakistan, hosted a momentous celebration of the International Day for the Conservation of the Mangrove Ecosystem. The event, held at Baloch Village Sonmiani on 26th July 2023, witnessed the active participation and support of various government departments, community groups, and local residents, making it a truly community-driven effort.
The celebrations commenced with a vibrant ceremony that brought together representatives from the Balochistan Forest Department, Balochistan Coastal Development Authority, and Balochistan Fisheries Department etc. These key stakeholders highlighted the significance of mangroves in maintaining the ecological balance and the sustainable development of coastal areas.
The event also provided a platform for local communities, including fishermen communities and women community groups, to actively participate in the conservation and sustainability efforts. With the guidance of experts and officials, these community members planted mangrove saplings along the Sonmiani coastline, a symbol of their commitment to protect the environment and their way of life.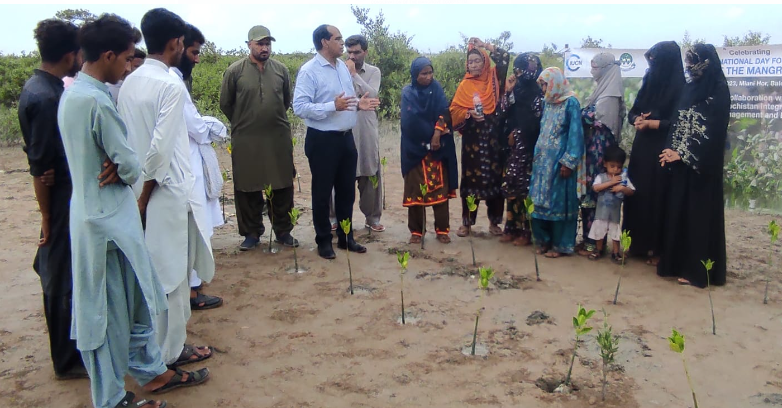 Reading out the message of Project Director of BIWRMDP Engineer. Barkat Ullah Kakar ,showed his eagerness and welcoming nodes to the stakeholders and community members. In his statement he stated, "Our aim is to revive and safeguard the mangrove forests, which is one of the sub components of the forest and rangeland. In the statement he said that Mangroves play a crucial role in preserving the coastal ecology, supporting fisheries, and mitigating the impact of climate change, and have greater impact for the coastal community's livelihood.  Stated that, The BIWRMDP, in technical collaboration with IUCN Pakistan, stands committed to the conservation and sustainable management of this invaluable ecosystem. Appreciating the enduring results of IUCN, he stated that Our partnership with IUCN Pakistan has been instrumental in crafting effective strategies for mangrove preservation, ensuring the well-being of our environment and coastal communities and these kind of events marks the beginning of a larger conservation effort in the region. Adding more he said a total of 2020 acre area is designated for with 3518840 plants of mangroves for plantation and this component will attain this target in the end of this year hopefully."  
Dr. Babar Hussain and Mr. Danish representing IUCN Pakistan, commended the collective efforts and said, "The preservation of mangrove ecosystems is a shared responsibility, and IUCN Pakistan is honored to contribute its knowledge and resources to safeguard this vital habitat. Our collaboration with the Balochistan Integrated Water Resources Management and Development Project has been fruitful, and we are committed to fostering a green and resilient future for Balochistan's coastal communities."
Furthermore, women community groups showcased their dedication to environmental stewardship and said that we are proud to play an active role in this event and appreciated the efforts of BIWRMDP and IUCN.                                  
The local fishermen members expressed their gratitude, and stating, Mangroves have always been our guardian, providing us with a good catch and protecting us from natural disasters. Today, we repay the debt by nurturing these saplings and ensuring their survival for future generations.
Published in The Balochistan Point on July 28, 2023