Awaran: Eight workers of preaching party abducted from Mosque in Tehsil Jhao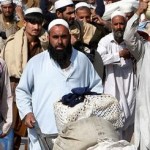 Tuseday-Wednesday night. 
According to the eye witnesses, unidentified   armed men surrounded mosque and kidnapped eight persons who were on mission of preaching Islamic values and teachings.
The victims belonged  to Peshawar and Bannu, who had arrived Telar Jhao area of Tehsil Jaho some 80 Km from district Awaran (central Balochistan).Armed men encircled the Mosque and at gunpoint abducted all eight members of preaching group.
Having information, security forces reached the site of incident and cordoned off the area; however, no responsible of the incident   could be arrested up till now.
Published in The Balochistan Point on 27,June 2013