Islamabad: One day Musical Event "PAMIR MUSIC FESTIVAL' organized by BULBULIK in Collaboration with Lok Virsa and ONDRA celebrated at Lok Virsa on Saturday.
At the inauguration traditional welcome tune given by students of Bulbulik Music School.
Folk singers, Artist from Hunza and Gojal valley and people participated and performed Lok Dance and music.
On this Occasion program chief guest Executive Director Dr. Fouzia Saeed said "I am glade people loving Culture have gathered here and I want transfer our folk tradition to our young generation".
She said, "Music is food of soul and it helps to overcome extremism. It is great pleasure to see women participating in cultural events and are learning folk music."
"We are adding music and dance elements in Lok Virsa museum to highlight our beautiful Lok music and dance." She added.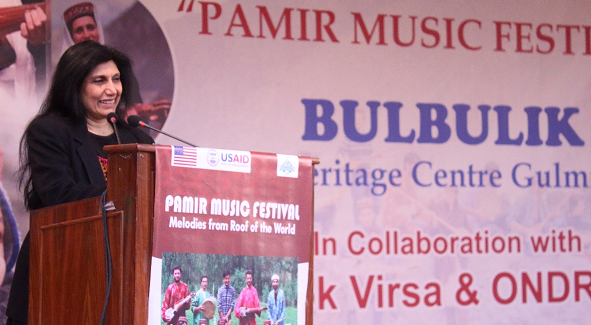 A folk song "Sinissai" sung by elder women of Gojal Hunza. This special song is sung at weddings and is tribute to brides.
"Kush Ailek maan lolo" and other Lok songs sung by singers. Traditional dance by various age groups from the audience which is part of festivities in Gojal region.
Famous Wakhai singer Fazal Rahman performed Wakhai and Persian songs.
Earlier on welcome speech program Organizer Abdul Waheed said. Bulbulik Music School which introduced in GB to promote the endangered Wakhi/Pamiri heritage of music and poetry. This program is the part of activities.
Staff Reporter
Published in The Balochistan Point on December 31, 2016