By: Aziz Ejaz
Baloch Student Action Committee (BSAC )is a non-profitable committee and has no links with any political party. BSAC has been a symbol of change with its strict policies regarding the lapses that have wrapped up the whole educational system of the province into its cancerous strike.
 As the educational matters and situations are concerned, Balochistan with such an enormous resourceful land has been deprived of educational facilities for a long time. If we have a gaze at the literacy rate, children ratio out of schools, enrolment percent in schools, colleges and universities, we surely can get a cognition how severely Baloch have been kept away from such a magnificent blessing.
BSAC, which if we call an institute so will not be wrong, to its education has been kept on top priority and any negligence to it can be considered an immense loose and a sort of darkness towards enlightenment so that the activists of BSAC fledged to raise their fingers in obtaining all those rights which will undoubtedly be the ultimate rights of the students.
It is truly a misfortune condition for the students of Balochistan that hitherto there appear no student organization to attentively highlight the issues of educational institutes and students studying in that, but BSAC on this regard substantiated it a committee to be adequately durable until the student's rights to be not fulfilled. It completely believes in a peaceful way to attain all the legal demands which are the globally predetermined privileges of the students. Whither it is the issue of medical colleges functionality and inauguration, engineering universities up gradation, new universities and sub campuses initiation, colleges and schools illegibility all have been the fragments of its voices raised where they could go to record their reservations.
Today, BSAC has been successful to attract the concentration of people towards it and it has been utterly functional in most of the areas of Balochistan. This is also one of the intentions of BSAC to have steps in all backward and outskirts areas to attempts in developing an educational which would be meant to wash up the evils practices which are creating an aggravating mentality among the young generation
They (BSAC) from the first time in history from student platform commenced a book caravan which apparently aims at developing of an environment where reading books would be the utmost habit of people. This historic step which was declared as the first phase by BSAC started its first journey from District Mastung and ended at a backward place known as Dalbandin. It covered Mastung, Kalat, Washuk, Kharan, Noshki and Dalbandin.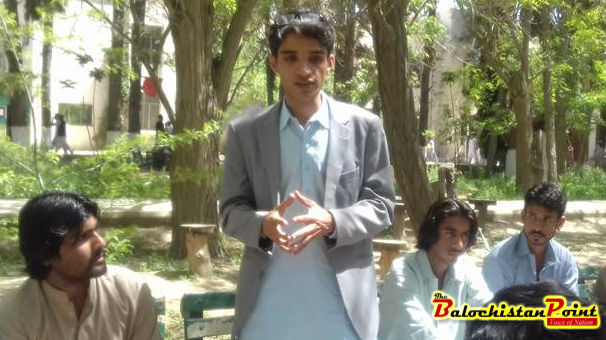 At every station the move taken from the true helpers of students has been praised by educational community and lovers of the books. BSAC is trying its best to reinstate the merit in all spheres of education and believes until the students don't understand what roles they have in making the educational institutes it perhaps be a very daunting challenge for BSAC alone to be accomplished. However, the call which is to make the institute free from the menace of corruption, nepotism, favoritism, bogus recruitment etc. declares how sincerely the activists of BSAC demand from responsible authorities to have a glance at improving the worse situations. It is hopefully a great sign of commitment from the members of BSAC to take such outstanding and productive steps for a society where illiteracy speaks of all.
The current central chairman Rasheed Karim Baloch with his central members seems to be always a task oriented and optimistic team to have a keen consideration towards educational and academic affairs. All students here need to support them in accomplishing such a fatigued task to be done as soon as possible. Surely such movements will ever be the parts of history and BSAC has written a history of its own which will be appreciated.
Published in The Balochistan Point on May 12, 2017