By: Farah Jamil,
QUETTA:  Bolan Medical Complex was reopened on Tuesday, 10 days after a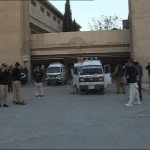 terrorists attack on the medical facility and a suicide blast in a university bus, killing over 25 people in the violence-ravaged capital of Balochistan, media reported.
Amid tight security in the hospital, doctors started their services today as long queues were witnessed at OPDs.
Three nurses, medico-legal officer of the hospital and a deputy commissioner were killed among 25 others in the attacks.
The violence had started with an apparent separatist attack that destroyed a historic building once used by the nation's founder Quaid-e-Azam Muhammad Ali Jinnah in the hilly town Ziarat in Balochistan province.
All hostages were evacuated by security forces in armored vehicles. Patients were shifted to civil hospital and combined military hospital Quetta for treatment.
"We suffered a lot after closure of hospital", Abdul Aziz, father of an ailing boy told media. He said that his son was a Thelesmia patient and there was no proper treatment in civil hospital. "Bleeding started from my son's nose since there was a delay in provision of blood to him",Aziz said.
When female students were brought for treatment in BMC, an awaiting suicide bomber blew himself up.
The blast was followed by exchange of fire between forces and militants for five hours when the seige ended.
Muhammad Ayub an attendent of a patient told media that most of the senior doctors are absent.
As BMC was re-opened, a large number of patients reached hospital. Para- military troops and police were deployed to avert any untoward incident.
From http://www.aaj.tv