Mariyam Suleman Baloch
Gwadar – Chief Minister (CM) Balochistan Dr. Abdul Malik Baloch inaugurated the Sewerage and water drainage system of Old Town Gwadar as well as the newly constructed hostel of Gwadar development Authority (GDA) public Higher Secondary School during his two day visit in Gwadar on 9th and 10th of April.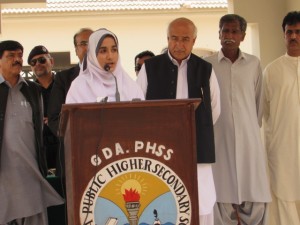 On the first day of the visit, CM addressed the ground breaking ceremony of the sewerage and water drainage system in PC hotel that was organized by Gwadar development Authority. A number of National Party members, local professionals as well as a group of vice chancellors from different parts of Pakistan and several professors from University of Turbat attended the ceremony.
Although the major reason for Dr. Malik was to inaugurate the developmental projects of Gwadar but Dr. Malik as usual focused on education sector and notified that soon a sub-campus of University of Turbat will be established in the port city.
Denying the blame of being a part of the Recodik pillage, CM Balochistan said, "Allegation of selling stone against me can't be proved let alone selling Rekodiq. All the blames of buy and sell of Rekodiq project are baseless."
On the second day of the visit, in addition to inaugurating the newly constructed hostels of GDA Public Higher Secondary School Gwadar, Dr. Malik also presented trophies to the students whose performance had been outstanding in different competitions during the last academic year.
"You are going to be part of the Pak-China economic corridor; you are the future of Gwadar and Balochistan, make education your main concern because the only way to illuminate poverty in Balochistan is to promote education." CM Balochistan told the students.
Staff report
Published in The Balochistan Point on April 11, 2015