Adnan Aamir
Quetta – In an act that tantamount to irresponsible journalism, several media outlets have misreported the extension of Afghan refugees in Pakistan.
On 22nd August 2015, a tripartite meeting took Place between UNHCR and government of Pakistan and Afghanistan. In that meeting Afghan government requested for extension of stay of Afghan refugees, which is expiring in December 2015, for another two years.
UNHCR officials in Pakistan have confirmed to Balochistan that issue of extension of Afghan refugees in Pakistan is still pending and not finalized by Pakistan Government.
"It is important to clarify that the potential two years extension [of Afghan refugees] is not yet officially endorsed or finalized." Dunya Aslam Khan, Associate Public Information Officer of UNCHR told Balochistan Point. She further added, "Proposal is undergoing internal consultations and processes and pending inter-ministerial deliberations and the final decision by Pakistan's federal cabinet."
Balochistan Point on 23rd August had published a story about uncertainty over the issue of extension of Afghan refugees.
However well reputed media outlets have incorrectly reported that stay of Afghan refugees have been extended.
Jang Quetta in its 23rd August edition has published a news item that Pakistan government has extended the stay of Afghan refugees by two years.

Tolo News a media outlet of Afghanistan also misreported this news on 22nd August. Headline of Tolo news reads, "Pakistan Extends Welcome to Afghan Refugees for Two More Years."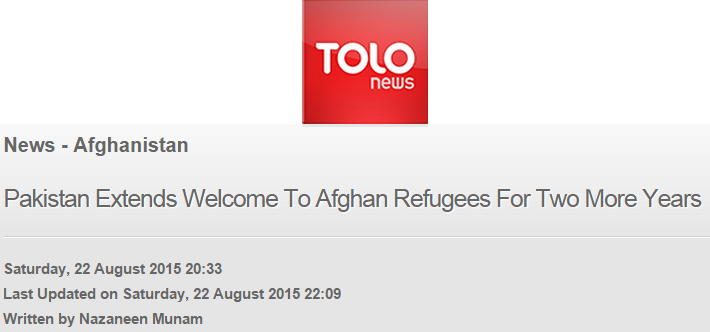 BBC Urdu, a well reported news service in Pakistan also published an incorrect story related to this issue on 23 August.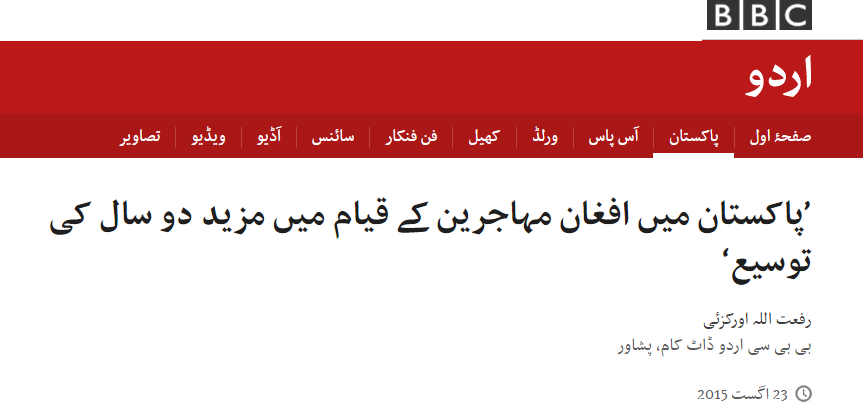 "Stay of Afghan refugees extended by two years," is the headline of new story related to this issue published in The Frontier Post newspaper of Pakistan.

Moreover, Newslens Pakistan, an online newspaper covering news stories in Pakistan also misreported the issue of extension of Afghan refugees. Headline of news story published in Newslens Pakistan reads, "Stay extended: A sigh of relief for Afghan Refugees."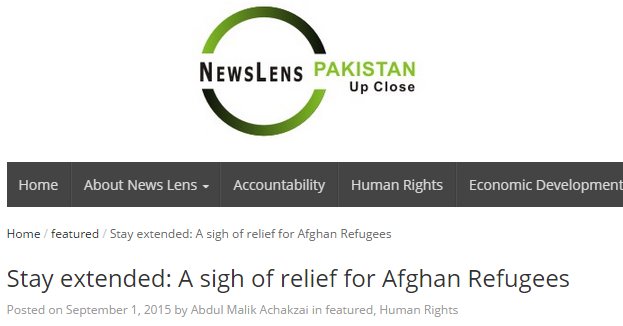 There are several other media outlets who reported the issue of extension of Afghan refugees without bothering to confirm from UNHCR.
Note: Balochistan Point welcomes any correction by the Media outlets mentioned in this story.
Featured picture courtesy of Dawn.com
Exclusive report
Published in The Balochistan Point on September 9, 2015