Kalat: Several villages of district Kalat of Balochistan lack facilities of pure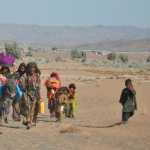 drinking water.  The women and children fetch water from dirty pools of rain water from distance of about 10-15Km on the back of animals.  No attention of previous governments, elected Member of National Assemably (M.N.A) and Member of Provincial Assembly (M.P.A)  for the provision of such a basic need of life has caused great threats of diseases in the deprived areas.
The villages lacking clean drinking facility include Ammiri, Surkhain, Gulak, Kapoto Kalan,Akhurak, Kuhak, Hadir Kash, Bolkhey, Dilshad Zai,  Kapoto,Takhat, Narmuk, Loap, Sargar Muhammad Tawaha ,Kuryach and other communities  with number of population.
The deprived inhabitants of villages have appealed the higher authorities to install tube wells and start drinking water schemes on operational basis.
Reported by:  Hasrat Baloch

Published in The Balochistan Point on June 28, 2013