Abid Shezad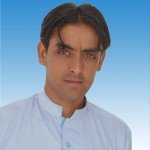 A great game is being played in Balochistan with the objective to change the Baloch majority into a minority. This game involves settling afghan immigrants in a large number in each district of Balochistan. Afghan Immigrants are spreading in Baloch belt of Balochistan like virus. They are buying land, shops, residential property and even some locals are marrying their women with Afghan Immigrants in exchange for money.
Unfortunately, some greedy people within the ranks of Baloch community are helping the Afghan Immigrants in settling in Balochistan. These people don't understand that due to their selfish attitude, they would be converted in a minority one day.
Today, Baloch people are oppressed, deprived of their resources and trapped in Tribal feuds while Afghan Immigrants are capitalizing on the weaknesses of Baloch and spreading all over Balochistan.
Baloch are egotistic in nature and it's their main enemy which is destroying them. At this critical juncture Baloch must understand the urgency of the issue and should be united against the settlement of Afghan Immigrants. If Baloch don't get united for this cause then it will have a devastating impact for their survival in the future.
Published in The Balochistan Point on March 9, 2015
Disclaimer: Views expressed in this article are those of the author and The Balochistan Point not necessarily agrees with them.