QUETTA: Mishal Pakistan, Australian High Commission and World Food Program briefed the parliamentarians in the Balochistan assembly on the alarming situation in the province. The key focus is to capacitate policy makers for a more harmonized mechanism to ensure service delivery to the citizens. The initiative aims to facilitate the knowledge flow among key stakeholders to "Eliminate Hidden Hunger and Nutrition Challenges".
Speaking on the occasion, Ms.RahilaHameed Khan Durrani, Speaker Balochistan Assembly said, we thank Mishal Pakistan for collaborating with the Parliamentarians to develop smart policy making to "Eliminate Hidden Hunger" from Balochistan. She further added "We need to engage institutions, academia and bureaucrats to make it part of the legislation for sustainable development. She said, media can play a crucial role in raising the awareness among the communities and various stakeholders relevant to this important issue for Balochistan.
Mishal Pakistan, the Country Partner Institute of the Global Competitiveness and Benchmarking Network of the World Economic Forum in collaboration with the Standing Committee on Health held a special session to capacitate the Parliamentarians for smart policy making on eliminating hidden hunger and nutrition awareness. The session was held at the Provincial Assembly and attended by the Standing Committee members on health, members of academician and senior journalists.
61% Population in Balochistan Facing Food Insecurity.
Dr. Aftab Bhatti, Senior Nutrition Officer with the World Food Program in Balochistan briefed the parliamentarians that 61% population in Balochistan is food insecure, whereas; out of 20 food insecure districts in the country 10 are in Balochistan. The situation in Balochistan is specially critical as 40% children are underweight, additionally 52% are stunted and 16% are wasted. In terms of other demographics 49% women are anemic along with 57% children are anemic.
Amna Sabahat, Program Manager Eliminating Hidden Hunger, while briefing the members of Balochistan parliamentarians said, "We have launched the Smart Policy Making initiative to ensure policy making through data and real time feedback through media. This would not only help the parliamentarians to improve service delivery to the citizens but would also contribute in improving Pakistan's competitiveness on global footing, while creating accountability through media."
She further said that "the adult literacy rate in Baluchistan is 43.6% whereas the young literacy rate lies at 55.9%.The awareness of nutrient deficiency level of Iron and Iodine in Pakistan remains highest especially in the urban community with up-to 42.0% and 61.6% respectively. Women and children remain the ultimate victims of these deficiencies resulting in high mortality rates".
The Department of Foreign Affairs and Trade, Australian High Commission (Australian Aid) has reached out to Mishal to partner and launch a nationwide program to create knowledge resources on Nutrition challenges in Pakistan. The program will address the "Sustainable Development Goals (SDG), Goal No. 2 'Zero Hunger'". The initiative by Mishal has launched the program to improve the narrative building on Nutrition by engaging various stakeholders including press clubs, journalism associations, policy making institutes and academia across Pakistan.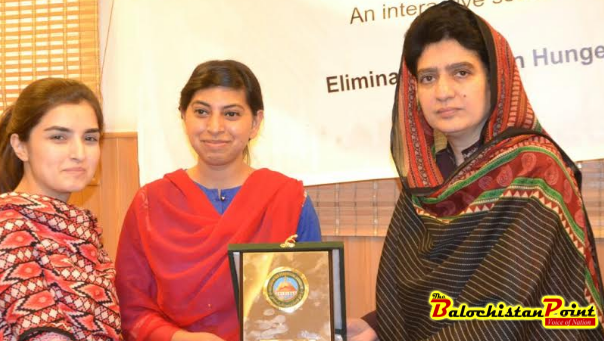 This collaboration has come into two different phases i.e. Initially in the shape of support for AGAHI Awards, where the Australian Aid is supporting the Journalism Awards in the categories of Eliminating Hidden Hunger, Agriculture and the Food, Water and Energy Security Nexus."
The second phase of the collaboration between the Australian Aid and Mishal is to build the capacity of journalists and field reporters to create a better understanding on nutrition related challenges, while at the same time it will capacitate the parliamentarians and policy makers to debate suggest and approve Nutrition focused policies for a productive workforce of the future. The initiative is working across Pakistan with focal areas in provincial and federal capitals in Sindh, Punjab, Balochistan, Khyber Pakhtunkhwa, AJK and the Federal Capital, Islamabad.
Through this initiative "Eliminating Hidden Hunger", Mishal will build the capacity of more than 120 journalists and editors, while also engaging more than 60 parliamentarians and members of the federal and provincial standing committees on Food Security, Health and Agriculture etc. The initiative is supported by various development agencies and private sector organizations. The initiative is creating a master class of key opinion leaders in the country on nutrition and Sustainable Development Goal (SDG) goal 2.
An estimated 2 billion people — over 30 percent of the world's population suffer from deficiencies in essential vitamins and minerals. "Hidden hunger" is how health experts often refer to micronutrient deficiencies because most people affected do not show the visible physical symptoms and hence may not be aware of their condition. Hidden Hunger's effects can be devastating, leading to mental impairment, poor health, low productivity, and even death. Its adverse effects on child health and survival are particularly acute, especially within the first 1,000 days of a child's life, from conception to the age of two, resulting in serious physical and cognitive consequences.
The UN Sustainable Development Goals aim to end all forms of hunger and malnutrition by 2030, making sure all people – especially children and the more vulnerable – have access to sufficient and nutritious food all year round. Zero Hunger is one of 17 Global Goals that make up the 2030 Agenda for Sustainable Development.
Australia is a lead donor in improving nutrition outcomes in Pakistan. As founding donor, Australia has committed AUD 39 million to the World Bank's Multi Donor Trust Fund for Nutrition which supports the Balochistan and Khyber Pakhtunkhwa Governments to scale-up and sustain an effective response to malnutrition. On a policy level Australian Government supports the National and Provincial Fortification Alliances for improved legislation, coordination and advocacy for fortifying foods with essential vitamins and minerals to reduce high prevalence of micronutrient deficiencies in the population. Australia is also supporting robust evidence generation on malnutrition through its innovative grants scheme, implemented through the Scaling Up Nutrition Academia and Research Network of Pakistan.
Staff Reporter
Published in The Balochistan Point on July 20, 2017