By: Mir Hazar Khan Baloch
Prosthesis Maker is the sole institution in the province, giving new lives to the people with disabilities.
Mohammad Idris has thrice brought his eight-year-old daughter Nazia for checkup in this institution. Three years ago Nazia had fever that ultimately compelled her to discontinue her work. Treatment to be able to navigate the many efforts made but Nazia walk only with synthetic shoes.
The company was founded by an international NGO and the Office of Social Welfare Department of Quetta Baluchistan was established in 1989. The Institute is granted to facilitate the treatment of more than fifty thousand people including 28 thousand children.
The supervisor of the institute Humayun Shah also works with five co-workers in the field of artificial organs. They order manufacture artificial limbs and shoes for five to ten patients per week who became disabled in the incidents of terrorism or by other disease.
Assistant Administrator of institution Muahammad Sabir siad, "Forty to fifty percent of recent retirees affected by the terrorist attacks in Balochistan are fitted with artificial limbs by this institution."
"A number of victims of the Afghan war were also given the same facility; however, the resources being utilized for the treatment of patients are not sufficient." Muahammad Sabir added.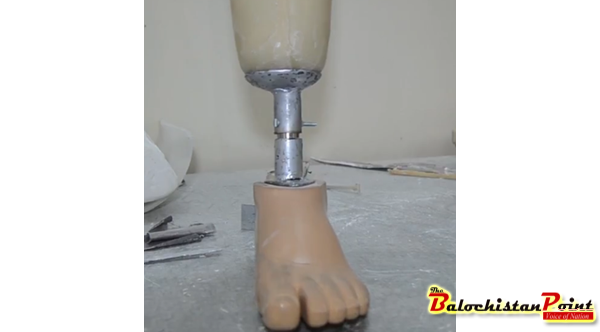 According to Muahammad Sabir, The number of patients is high and government is unable to provide machinery facilities thus multi donors have established centers in Turbat, Khuzdar and Gwadar.  These centers are providing artificial limbs to the patients freely upon which many people who could not afford privately are benefiting from this great work.
Published in The Balochistan Point on August 1,2017