Islamabad: Balochistan and Punjab saw a marginal increase in violence in 2016, with Balochistan seeing an almost 10pc rise in fatalities caused by violence since 2015, and Punjab seeing the highest number of fatalities in the province in four years, the Centre for Research and Security Studies (CRSS) has found.
Fatalities in Balochistan rose from 719 in 2015 to 798 in 2016, while Punjab lost 424 people to violence last year. Both provinces were the targets of suicide attacks that increased the casualty count.
The findings are among others in the annual CRSS security report which was released on Tuesday.
The report also said that the overall situation in the country has improved, and Pakistan may see prominent success with regards to curbing violence this years, as things have improved not only here but in the region. 2016 saw an almost 45pc fall in violence-related fatalities, continuing the trend of reductions since 2014.
Defence analyst and head of the CRSS, Imtiaz Gul told Dawn the general situation has changed significantly.
"However, the challenge will remain for Pakistan to deal with the proxy war in the region. Pakistan has neutralised the affect of the Tehreek-i-Taliban Pakistan, which was creating problems in the name of Islam and Sharia," he said.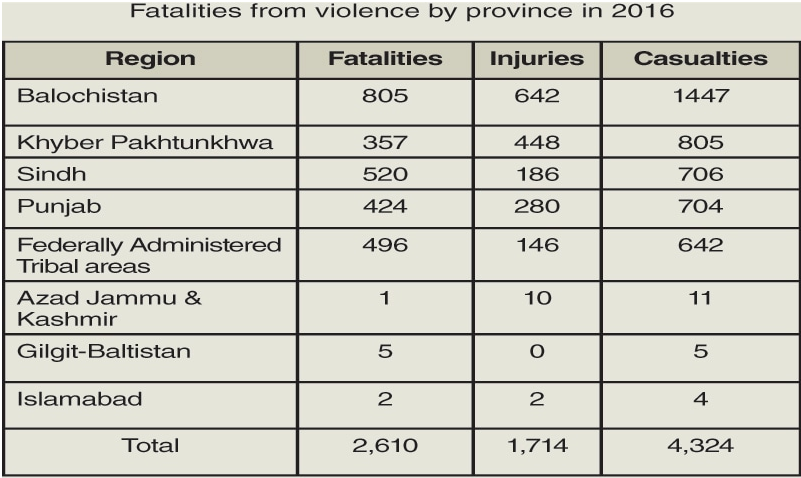 In response to a question, Mr Gul said the new chief of army staff and heads of different quarters of the army would not lead to any big differences. "As long as Afghanistan deals with Pakistan through the India prism, the security establishment will remain sceptical," he said.
The total number of casualties in 2016 fell from 6,572 – 4,647 dead and 1,927 injured- in 2015 to 4,324 – 2,610 dead and 1,714 injured.
Balochistan saw four suicide attacks that killed 97 people including 52 lawyers, while Punjab saw one suicide attack in Gulshan Iqbal Park in Lahore that killed 74 people, of whom 29 were children.
Karachi, Quetta, Lahore and Peshawar, all of which host provincial capitals, were among the districts most affected by violence in 2016.
But when compared to 2015's figures, a significant drop in fatalities was notable in all the capital cities other than Quetta and Lahore. Karachi, still the most violent district in the country, saw a sharp decline in fatalities.
Tougher security forced militants and criminals to adopt new methods and strategies.
They relied on improvised explosive devices, landmines and suicide attacks that killed 474 people, as compared to 251 people killed in similar attacks in 2015.
CRSS also found that sectarian violence fell by 20pc, killing 241 people in 2016 as compared to 304 in 2015.
Sectarian violence fell in Sindh and Khyber Pakhtunkhwa, but increased in Fata, Balochistan and Punjab. Over 70pc of the people who were killed by sectarian violence were the victims of suicide attacks.
Four districts in the country saw the highest number of fatalities from sectarian violence in 2016, with Lahore at the top of the list.
Sectarian violence was also reported from locations previously unaffected, such as Shah Norani in Khuzdar, Mirpur Mathelo, Hyderabad, Chakwal, Buner and Badin.
Sectarian violence was also selectively used on soft and unprecedented targets but victims were not targeted selectively.
The highest fatalities from sectarian violence were recorded at the Gulshan Iqbal Park in Lahore on Easter, in which Christians appeared to have been targeted although only 14 of the 74 killed were identified as Christian. Sufi pilgrims at the Shah Norani shrine were also victims of sectarian violence.
The report also criticises the government for not addressing the myriad problems in police departments in the country or reforming the criminal justice system to provide relief to citizens in a timely and efficient manner.
The National Counter Terrorism Authority is referred to as stillborn, flailing without funding and resources, and the report states that crucial elements of the National Action Plan need to be implemented in addition to kinetic operations, in order to secure a long term future for the country. (Courtesy: Dawn.com)
Published in The Balochistan Point on January 5, 2017