Quetta: Chief Minister Balochistan, Nawab Sanaullah Khan Zehri has said that no doubt Pakistan was a great country therefore world has focused its eyes on it. "Government, Pak-Army and entire nation is currently facing many challenges but we would be successful," he added.
Addressing to the first Parents' Day of Cadet College Ormara, Chief Minister Balochistan said that we had to fight against terrorism, extremism, sectarianism, ignorance and against all prejudices by confronting all internal and external conspiracies with unity.
He said that in the context of CPEC the importance of Cadet College Ormara was more significant because fulfilling the requirement of educated and technical trained human resources at local level the role of college would be very crucial. "I think imparting education to our youth would help get more benefits from CPEC since getting education is the only source achieving national development," Nawab Zehri remarked.
He said that with help of God Balochistan was on the track of development as besides construction of Gwadar Port and CPEC a number of development projects were initiated in the province which would provide opportunities of job and the youth must be prepared to tap from these opportunities.
Addressing the students, Chief Minister said that you were the bright future of Balochistan and Pakistan now it was your responsibility to pay complete attention towards your education.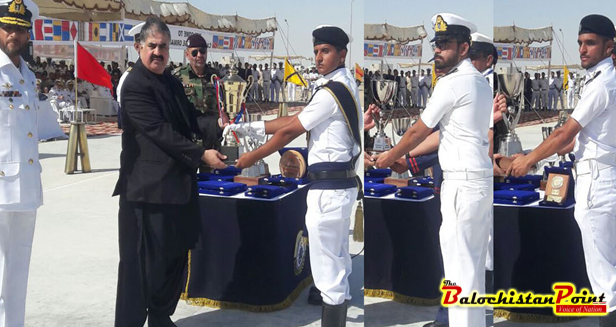 He said that it was great saying of our beloved Prophet Muhammad (PBUH) that "Knowledge is my weapon" and history had proved that those nations which adopted education as weapons were enjoying a high status in the world. "Qauid Azam Muhammad Ali Jinnah during his visit to Balochistan had stated that "Education is powerful than sword" thus focuses on acquiring more education".        
On the occasion, Chief Minister Balochistan announced Rs 500 million for Cadet College Ormara and Rs 3 million for cadets who presented PT show besides he assured every possible support to the college from provincial government.
Later Chief Minister also distributed prizes and rewards among the cadets for their outstanding performance. Earlier, when Chief Minister Balochistan reached Cadet College Ormara, the cadets accorded him a rousing welcome.
Chief Secretary Balochistan Saifullah Chattah, Commander Coast Voice Admiral Waseem Akarm, Principal Cadet College Ormara, Commodore Masood-ul-Hassan, notables, tribal leaders, students and their parents were present on the occasion. -End  
Staff Reporter
Published in The Balochistan Point on January 7, 2017