QUETTA: Media needs to become part of the development agenda in Pakistan, to ensure transparency and accountability for quality service delivery to the citizens, this was concluded at the session on Smart Policy Making on Eliminating Hidden Hunger, today at the Quetta Press Club. The session was attended by senior journalists, field reporters, media and development professionals, representatives of civil society and academia.
Mishal Pakistan, the Country Partner Institute of the Global Competitiveness and Bench marking Network of the World Economic Forum with support from the Australian High Commission, Islamabad held a special session for the journalists working on health public policy. The session was designed in collaboration with the Quetta Press Club to encourage journalists and media professionals to understand the concept of smart policy making on eliminating hidden hunger and nutrition awareness.
SaleemShahid, Senior Bureau Chief Dawn while presenting his views in the session said "The malnutrition issue exists. Our journalists really need such workshops to understand and know how to do it. We need to engage the journalists as well as the editors to motivate them to talk about the health issues. Today, instead of views and opinion fact based reporting should be done to fill the required knowledge gap in the public and political spheres."
The data from Mishal's research shows that the total number of households below the nutritious diet thresholds in Punjab are 65.5%, while the numbers for Khyber Pakhtunkhwaare 67.4%, Sindh 70.8%, and 83.4% for Balochistan.
Member of the Quetta Press Club Governing Body and Bureau Chief Dawn,Syed Ali Shah, said through this initiative, media will be empowered to generate knowledge based reporting on health issues which will result in to awareness among public spheres while holding responsible policy makers accountable. The Quetta Press Club will be at the forefront of this initiative by ensuringPakistan's commitment to achievethe Sustainable Development Goal 2 – Eliminating Hunger."However, it is not possible without utilizing available data and commitment to professionalism", he further added.
NidaKarim, Program Specialist Eliminating Hidden Hungerat Mishal Pakistan, while briefing the members of the journalists' community said, "The Smart Policy Making initiative of Mishal is to bring media at the core of the development agenda in Pakistan, the initiative will ensure policy making through data and real time feedback. This will alsomakepolicy makers accountable to the people. This would not only help the parliamentarians to improve service delivery to the citizens but would also contribute in improving Pakistan's competitiveness on global footing, while creating accountability through media. She said, although the costs for Nutrition per capita of PKR 2,061/per month is lowest in Punjab as compared to Sindh PKR 2,306, Khyber Pakhtunkhwa PKR 2,152 and Balochistan at PKR 2,415.The amount is still out of reach of average citizens' buying power.
NidaKarim further said, "Mishal Pakistan along with the Australian High Commission is engaging policy makers and journalists across Pakistan to understand the dynamics of malnutrition in the country. Today's session with the journalists focused on strengthening the delivery platforms for a better and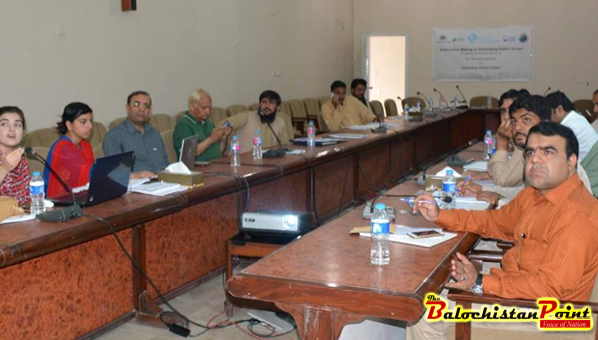 fact-based coverage of malnutrition stats inPunjab."
Almost 24% of the population in Pakistan is suffering with Hidden Hunger, while stunting and malnutrition are immediate challenges faced by the society, media is unable to create a public debate on this. The awareness of nutrient deficiency level of Iron and Iodine in Pakistan remains highest especially in the urban community with upto 42.0% and 61.6% respectively. Women and children remain the ultimate victims of these deficiencies resulting in high mortality rates.
Earlier session has been held with journalists from Khyber Pakhtunkhwaand Punjab on Smart Policy Making. Similarly, the parliamentarians from Sindh and Khyber Pakhtunkhwa have also been briefed on the smart policymaking process. The parliamentarians from Punjab will be briefed on the state of Hidden Hunger later this month.
The initiative Eliminating Hidden Hunger has been launched byMishalPakistan, the initiative has is aimed to improve the narrative building on Nutrition by engaging various stakeholders including press clubs, journalist associations, policy making institutes and academia across Pakistan.
Through the initiative "Eliminating Hidden Hunger", Mishal will build the capacity of more than 120 journalists and editors, while also engaging more than 60 parliamentarians and members of the federal and provincial standing committees on Food Security, Health and Agriculture etc. The initiative is supported by various development agencies and private sector organizations. The initiative is creating a master class of key opinion leaders in the country on nutrition and Sustainable Development Goal (SDG) goal 2.
An estimated 2 billion people — over 30 percent of the world's population suffer from deficiencies in essential vitamins and minerals. "Hidden hunger" is how health experts often refer to micronutrient deficiencies because most people affected do not show the visible physical symptoms and hence may not be aware of their condition. Hidden Hunger's effects can be devastating, leading to mental impairment, poor health, low productivity, and even death. Its adverse effects on child health and survival are particularly acute, especially within the first 1,000 days of a child's life, from conception to the age of two, resulting in serious physical and cognitive consequences.
The UN Sustainable Development Goals aim to end all forms of hunger and malnutrition by 2030, making sure all people – especially children and the more vulnerable – have access to sufficient and nutritious food all year round. Zero Hunger is one of 17 Global Goals that make up the 2030 Agenda for Sustainable Development.
Australia is a lead donor in improving nutrition outcomes in Pakistan. As founding donor, Australia has committed AUD 39 million to the World Bank's Multi Donor Trust Fund for Nutrition which supports the Balochistan and Khyber Pakhtunkhwa Governments to scale-up and sustain an effective response to malnutrition. On a policy level Australian Government supports the National and Provincial Fortification Alliances for improved legislation, coordination and advocacy for fortifying foods with essential vitamins and minerals to reduce high prevalence of micronutrient deficiencies in the population. Australia is also supporting robust evidence generation on malnutrition through its innovative grants scheme, implemented through the Scaling Up Nutrition Academia and Research Network of Pakistan.
Staff Reporter
Published in The Balochistan Point on july 19, 2017