Quetta: Australia will continue supporting Nutrition for Mothers and Children in Balochistan to minimize the malnutrition amount women and children. This was stated by the Australian High Commissioner, Margaret Adamson while attending a briefing here on Monday.
Mr. Noor-ul-Haq Baloch secretary health government of Balochistan briefed Australian High Commissioner to Pakistan Margaret Adamson. Dr. Masood QadirNosherwani Director General Health Services Balochsitan also attended the briefing.
While briefing Dr. Ali Nasir Bugti, Provincial Coordinator Nutrition Program said that Nutrition Program has been functionalized in all seven focused districts. The program has established 83 Outpatient Therapeutic Program (OTPs), Lady Health Workers have formed 1799 Mothers Support Groups to provide counseling services Infant & Young Child Feeding Practices (IYCF) conducting 1485 sessions. Besides this, The Lady Health Workers have screened 4262 severely malnourished children and 15871 pregnant and lactating women in local community.
Moreover, the nutrition program has formed 258 father support groups in project focused districts in-order to educate and make aware the male segment of the society to seek their support for their female family members to provide an enabling environment to women for breastfeeding the child and to consume better diet during pregnancy and lactation.
While expressing her views Ms Adamson said that Australia will continue supporting government of Balochsitan to reduce the deaths of women and children caused by the malnutrition. She said that awareness is the key for change furthermore, she emphasized on raising awareness on birth spacing, discouraging early marriages and promoting girls education in Balochsitan will play crucial role in saving women and children in communities.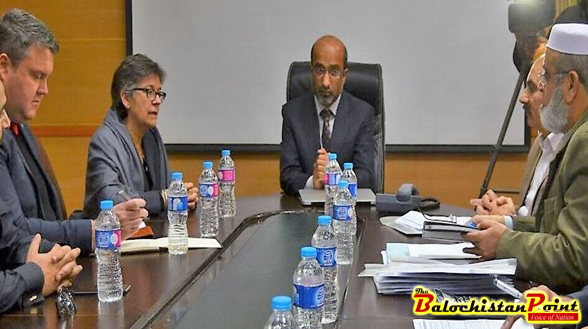 The Australian High Commissioner to Pakistan said that Australian Government was also investing in Pakistan's human development to improve education and health, particularly for women and girls, including school feeding programs, and adapting Australia's agriculture investments to improve nutrition and water and sanitation.
"Australia's strong commitment to improving nutritional services across Pakistan was further heightened during Foreign Minister Julie Bishop's recent visit to Pakistan where she announced AUD 1 million for additional technical assistance to strengthen Pakistan's capacity to improve nutrition," Ms Adamson said.
The Australian Government partnered with the World Bank to establish the Multi-Donor Trust Fund for Nutrition in June 2013. The UK Department for International Development has also recently joined the Trust Fund.
Staff Reporter
Published in The Balochistan Point on February 13, 2017