Quetta – Baloch culture day was celebrated across Pakistan, on Monday.
Baloch community living all around the world celebrates Baloch culture day on 2nd March. On this day, Baloch culture is presented to the world with pride.
Cultural programs and traditional Balochi dance, called Chaap, was held at different places in Quetta including University of Balochistan, Millennium Mall and several other places.
In Karachi Baloch culture day was celebrated in consulate general of USA and Baloch populated localities.
Baloch students studying in different universities of Pakistan were on the forefront of celebrating Baloch culture day. Students of UET Lahore, Quaid-e-Azam University and other institutes celebrated Baloch culture day.
Dignitaries including Chief Minister (CM) of Balochistan Dr. Abdul Malik Baloch, Former CM Sardar Akhtar Mengal and USA Consular General in Karachi Brian Heath congratulated Baloch nation on Baloch culture day in their televised messages.
Inspector General of Frontier Corps, Major General Sher Afgan congratulated the Baloch people living in Pakistan and around the world on Baloch culture day.
Baloch culture day was also celebrated in Baloch majority districts in Punjab including Dera Ghazi Khan (D.G Khan) and Rajanpur. In D.G Khan Senator Zulfiqar Khosa and his son, Former CM of Punjab Dost Mohammad Khosa were the Chief guests of the cultural program.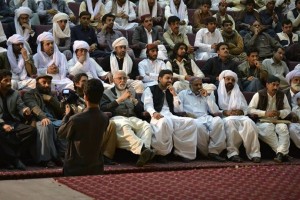 On twitter, #BalochCultureday hashtag was used to celebrate Baloch culture day.
"The essence of celebrating Baloch culture day is rejection of all sorts of extremisms. Baloch have a culturally rich history and they are proud of it," a participant of Baloch culture day program in Quetta told The Balochistan Point.
Cultural programs were held in almost all districts of Baloch belt of Balochistan to celebrate Baloch culture day.
Exclusive Report
Published in The Balochistan Point on March 2, 2015