By: Mariyam Suleman
Karachi: Baloch Students' Education Organization conducted a day long fun fair as part of students' week at University of Karachi engaging hundreds of youth, students and faculty members on Thursday.
"Baloch Fun Fair" as it was called is held every year during the Students' Week in University of Karachi by the members of Baloch Students' Education Organization. Each year it brings unique activities, a day long stage program with different segments for instance; panel discussions, theatre, Balochi dance (do-chappi) and book stalls for knowledge lovers.
This year not only the students and faculty members attended the Fun Fair but many of the alumni as well as students and professors of other universities were present and enjoyed different segments till late evening.
The first two segments included cultural dance by Baloch kids and classical dance by Meer Ahmed a Baloch student from Awaran district studying at Jam Shoro University. It was the first time ever that a Baloch student presented the art of classical dance in UoK.
It was also the first time in the history of UoK that Baloch girls performed a stage-play. Their major focus was on the invisible cultural and social chains that discriminate women and often set barriers for their social and educational empowerment. As the first time to perform in UoK, the female Baloch students were uncertain about the reactions and outcome of their performance but their uncertainties vanished once they were joined with claps and encouragements in between and by the end of the play.
Dr. Hafiz Jamali an Anthropologist and a professor at Habib University admired the efforts of the students and said, "It is time to rethink about how a positive difference can be created in the society in which we reside with educational and cultural barriers."
He further explained that, "We'll simply have to stop stereotyping gender roles that can only create issues and can do nothing good for us."
During a literary panel discussion Urdu poet and scholar, Professor Sahar Ansari said, "A reader of Literature often finds himself in the words, for the words in a good piece of literature explain deep human emotions and situations shared by all." Talking about writing he enlightened that "A writer can never be a coward, because it takes courage to replicate ideas and thoughts into words."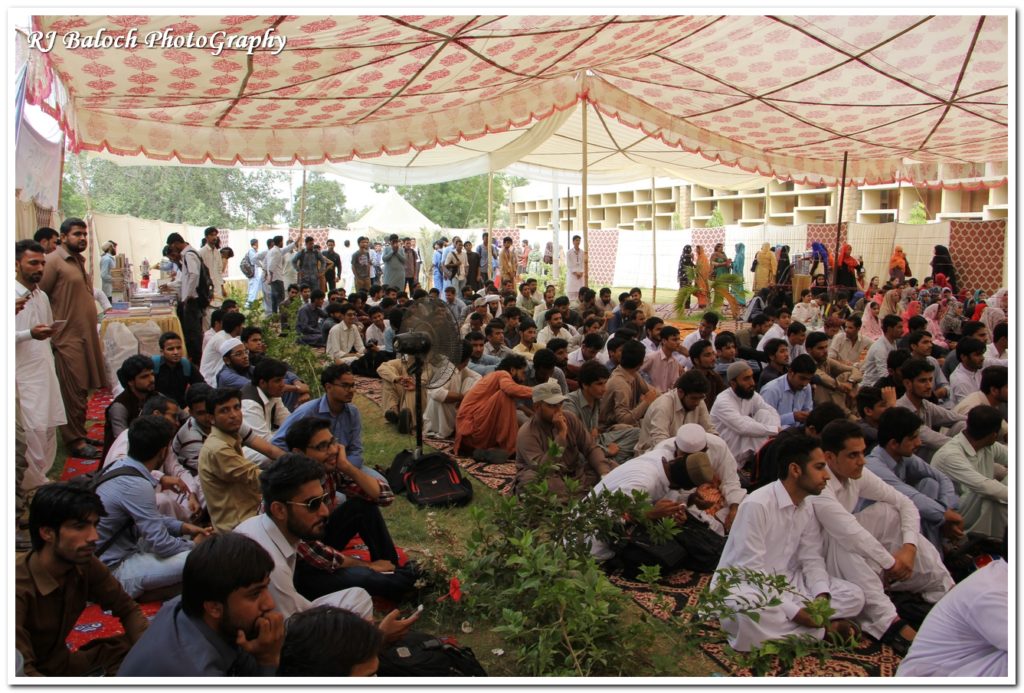 Guest Speaker of the same panel discussion, Dr. Fatima Hassan a well-known feminist and authoress of several books said, "I write because I want to illuminate the ugly face of the society." Taking about girls' education in Balochistan she seemed concerned and said, "There's a lot more to be done because girls in Balochistan are often either prevented from getting education or don't have access to. This stops them to be empowered and further ends the process for women's progress. Hence the entire society has to suffer and it has been for centuries. It is the time to change and perhaps literature has long been playing its part in the process."
The day ended with extensive learning, thought provoking ideas, fun and excitement. Baloch Fun Fair 2016 at University of Karachi as another success of Baloch Student Education Organization brought an opportunity for the students to not only get acquainted with the social issues and realities but to bring about awareness without forgetting to include amusement.
Published in The Balochistan Point on October 1, 2016